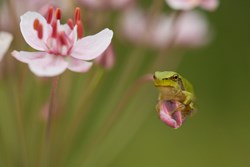 These six shows will delight and challenge Jackson, Wyo., visitors who take time out from the slopes.
Jackson Hole, Wyoming (PRWEB) October 24, 2013
Examining humanity's relationship with nature is a key part of the mission of the National Museum of Wildlife Art, located in Jackson Hole, Wyoming – as is offering an artsy alternative to après-ski for the area's many winter visitors. The group of new exhibitions on display at the museum this winter through Jackson Hole's busy 2014 ski season delves into a conservation theme from a number of perspectives. From a mammoth nature photography project capturing the flora and fauna of 48 European countries to a collection of artworks revealing conservation stories from around the globe to an exploration of the evolution of wildlife art itself, these six shows will delight and challenge Jackson, Wyo., visitors who take time out from the slopes:
The Wild Wonders of Europe, through January 5, 2014: From dramatic views of spectacular landscapes to intimate moments with rarely seen creatures, 68 photographers capture the full range of animal and plant life throughout the European continent in the U.S. debut of one of the largest nature photography projects ever undertaken.
Darwin's Legacy: The Evolution of Wildlife Art, through April 27, 2014: Charles Darwin's work spurred subsequent artists to examine how an animal functioned within and adapted to its environment as well as accurately depicting how it looked. This exhibition explores the connections between science and art from the 1800s to today.
Collectors Circle XV, through April 20, 2014: Members of Collectors Circle have met regularly over the past 15 years to help the museum acquire significant art for its permanent collection. This show celebrates highlights from the more than 75 acquired pieces, including works by Albrecht Durer and Titian Ramsay Peale.
Wonder Cabinet: A Collection of Curiosities, November 15, 2013 – April 13, 2014: The third installment in the popular and intriguing series of "community" exhibits curated by Bronwyn Minton, Assistant Curator of Art, this fresh take on the traditional Cabinet of Curiosities will include objects from the museum's collection, items on loan, and art specially commissioned for the exhibit.
Conservation Gallery, November 16, 2013 – November 16, 2014: Ranging from the now-extinct passenger pigeon to the far-ranging pronghorn antelope, this National Museum of Wildlife Art-designed installation shares conservation stories from North America – and across the globe – as expressed through wildlife art.
Elegy: The African Photography of Nick Brandt, January 18 – April 29, 2014: Known for not using telephoto lenses so as to present animals in their environmental context and to offer a sense of intimate connection, Nick Brandt's transcendent photographs inspire appreciation for their African wildlife subjects as well as the artist behind the camera.
Company Information: A member of the Association of Art Museum Directors and the Museums West consortium and accredited by the American Association of Museums, the museum, officially designated the National Museum of Wildlife Art of the United States by an act of Congress in 2008, provides an exciting calendar of exhibitions from its permanent collection and changing exhibitions from around the globe. A complete schedule of exhibitions and events is available online at http://www.wildlifeart.org. The museum is also active on Facebook and on Twitter at @WildlifeArtJH.
Media Contacts: Darla Worden, WordenGroup Strategic Public Relations, 307.734.5335, darla(at)wordenpr(dot)com; Ponteir Sackrey National Museum of Wildlife Art, 307.732.5444, psackrey(at)wildlifeart(dot)org.