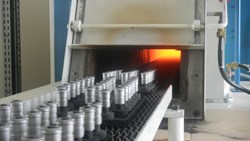 There are many differences compared to the U.S. when hiring or operating in Mexico. You have to be sure to have competent help; especially in the early stages to be sure you get your business off on the right foot"
Tijuana, Baja California, MEXICO (PRWEB) October 23, 2013
The US-based specialized electrical connector manufacturer, Conesys, recently announced they have expanded operations with a new facility in Tecate, Mexico. Specializing in electrical connectors and components for the aerospace and defense industry, Conesys newest facility just minutes from San Diego, California places them at the heart of the Aerospace Manufacturing Megaregion and Mexico's booming manufacturing industry. Conesys worked closely with the San Diego-based administrative and shelter services provider, Co-Production International, from the firm's corporate legal establishment in Mexico to personnel recruiting and hiring.
"One of the main features that influenced our selection of Tecate for the new facility was its proximity and ease of the closest US border crossing," said John Vinke, CFO for Conesys
When it comes down to analyzing costs, overseas manufacturing cities such as Shanghai, China have no way to compete with Mexico's proximity to major North American markets. Current global economic instability forces companies like Conesys to seek strategic locations for expansion that will increase their speed-to-market and reduce their logistics costs. Tecate is a smaller border town located 30 miles east the Otay Mesa commercial port of entry into the United States and Baja's manufacturing hub in Tijuana. The proximity to the Otay Mesa border crossing was a major feature for Conesys, as well as being only 140 miles from the firm's US headquarters in Torrance, CA.
The cost of labor and the quality and skill of the available workforce were also crucial considerations. With CPI's assistance in recruiting and hiring, Conesys was able to select qualified personnel from the 16,000 strong aerospace and defense workforce in the state. Baja California has over 50,000 students enrolled in technical schools and university-level degree programs in relevant fields such as mechanical, electrical and aerospace engineering. The region boasts not only a highly skilled and trained labor pool, but also their low-cost which is currently 19.6% less expensive than China. "This is an excellent state to invest and install manufacturing or assembling facilities. There are many benefits to establishing operations here such as the low cost of labor," reaffirmed Conesys' Tecate Plant Manager, Andres Murillo.
"There are many differences compared to the U.S. when hiring or operating in Mexico. You have to be sure to have competent help; especially in the early stages to be sure you get your business off on the right foot. CPI was very helpful with hiring a workforce effectively and was equally as good with the legal forms that need to be filed to comply with Mexican Law" reflected Vinke on the process of establishing new operations in Mexico.
Employing over 1,000 in North America and Europe, Conesys' new Tecate facility focuses on molding and assembly. Already in production and active in the regional industry Conesys recently participated in the 4th Annual Baja California Aerospace Suppliers Forum. As one of the stops on CPI's all day industry tour, the visit to Conesys' molding and assembly facility allowed executives exploring potential expansion in Mexico to see the region's benefits first hand. Conesys now joins over 60 aerospace and defense manufacturers located in the Aerospace Megaregion, adding their name to the roster which includes global leaders such as Eaton Aerospace, CUBIC, Lockheed Martin and Barry Avenue Plating (BAP Aerospace de Mexico).
###
Co-Production International is an administrative services provider located in San Diego, CA, offering successful business expansion solutions, manufacturing shelter services, day-to-day administrative duties, site selection, and the complete set-up of your operation in Mexico. For more information, or if you are interested in a cost analysis for expanding your operations to Mexico, visit http://www.co-production.net or call (858) 427–8514.
For a detailed overview of the aerospace and defense manufacturing industries in Mexico, please lick CPI's 2013 White Paper, "Aerospace & Defense Manufacturing in Tijuana, Mexico."