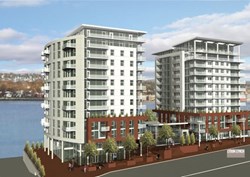 The King's Wharf project team has already specified PSP flooring technology for all the remaining buildings.
East Setauket, NY (PRWEB) October 28, 2013
The King's Wharf development project is located in a formerly derelict industrial site on the edge of the Atlantic Ocean across the harbor from Halifax, Nova Scotia, and adjacent to the downtown area of Dartmouth. The $500 million project promises to transform the entire waterfront area and is slowly taking shape, with the first wave of residents and shops already moved in.
When completed in 2014, the King's Wharf project will accommodate 3,500-5,000 people. As a mixed-use community, the completed project will include:

1,296 residential units
230,000 square feet of shops, restaurants and commercial space
a 200-room hotel
Two condominium buildings are already completed, but the jewel in the King's Wharf crown is the 33-story tower situated on the edge of the harbor, surrounded on three sides by the ocean and set for completion in 2016. The project developer, Francis Fares, notes, "We're building a community where you can live, work and play. All the materials and the final finish are first-class. So are the views!"
Two of 10 buildings already complete
Overall, ten buildings will be constructed. Both PRIMER STX 100 and LEVELINE 15 underlayment were supplied to the developer to treat 100,000 square feet of floor space for the luxury condo suites. The goal is to produce a hard, smooth and flat surface with a tolerance of 1/8" across 10 feet to accept the new hardwood flooring in the residential suites, which is being completed by Timeline Floors from Vancouver, British Columbia. Ceramic tile and corridor carpeting will be used for the public areas.
The senior project manager, Morgan Allway, was very pleased with the performance of the PENETRON SP flooring products. Frank McGuiness, President of PENETRON Specialty Products Canada adds, "The King's Wharf project team has already specified PSP flooring technology for all the remaining buildings."
The PENETRON Group is a leading manufacturer of specialty construction products for concrete waterproofing, concrete repairs and floor preparation systems. The Group operates through a global network, offering support to the design and construction community through its regional offices, representatives and distribution channels.
For more information on Penetron solutions, please visit www(dot)penetronsp(dot)com, email CRDept(at)penetron(dot)com, or contact the Corporate Relations Department at 631-941-9700.