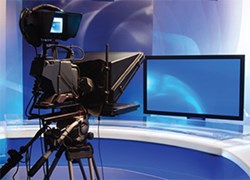 Pittsburgh, PA (PRWEB) January 14, 2014
Synergy Media Group, an audio and video technology integrator based in Pittsburgh, was recently featured in Commercial Integrator Magazine's "Redefining the Broadcast Integration Client" as an expert in light broadcasting and integration. The audio visual system design and installation firm highlighted their expert understanding in the white paper, as they have experienced an influx of interest from a variety of clients, such as educational, healthcare, and corporate, for content creation, production, and distribution of internal and external material.
According to the white paper, while traditional broadcast media is still flourishing, the need for "light broadcasting" has increased as technology has become a greater part of society and the workplace. The difference between light broadcasting and traditional broadcasting is not the quality of the broadcast project, but what happens to the material once it leaves the production environment. A light broadcast is typically narrow-casted on the web to a narrow audience unlike a national broadcast of the nightly news on TV, and the production environment is unique to the company's space; not typically being as large and elaborate as a traditional broadcast news studio.
A 2013 study by Commercial Integrator Magazine of 102 integrators found: "Among those that have done light broadcast projections in the past 12 months, 77 percent expect that revenue to be flat or up in 2013."
Synergy Media Group has been designing and building light broadcast studios for clients with unique or limited spaces. According to Bill McIntosh, President of Synergy Media Group, colleges and universities have embraced filming online learning lectures in light broadcast facilities. Students expect high quality video instruction that they are not receiving over standard videoconferencing technology. By creating light broadcast studios, universities are able to self-produce and professionally edit the material prior to student consumption. But, McIntosh has seen that education is not the only field that has been using the equipment. Corporations are filming production content such as webinars, online "thought leadership" videos, training courses,and marketing communication applications; health care industries are distributing clinical collaboration videos.
"Synergy Media Group could not be where we are today, as an expert in the light broadcast market, without the clients that continue to challenge us with their unique broadcasting needs," said McIntosh. "We're creating 20'x20' full light broadcast studios, 10'x10' mini-studios, and for companies that require portable broadcast capabilities, we've been creating mobile production facilities with high-quality broadcast cameras, mobile lighting, and recording. If you have a broadcast need, we will find the best solution for you."
About Synergy Media Group:
Synergy Media Group is the premiere professional audio visual design and installation team in Pittsburgh, PA and Columbus, OH. Our team of professionals has an average of twenty years in the audiovisual business and consistently stays on top of emerging technologies. Synergy Media Group's commercial division focuses on corporate board rooms and conference rooms, hospitals, k-12, higher education, and houses of worship. Synergy Media Group has a residential division that focuses on home audiovisual systems, specifically high-end home theater systems, media rooms, whole-house audio systems, in-wall surround sound systems, home automation, and smart homes.