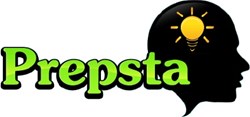 Nyack, NY (PRWEB) October 24, 2013
Let's face it – how fun is it to prepare for one of those standardized tests that make you feel like your entire life trajectory is on the line? To make matters worse, according to a recent study published in the ACT annual report, "The Condition of College and Career Readiness 2013," the company indicates that only 26% of HS graduates, who took the ACT college entrance exam in 2013, met the college readiness benchmarks for all four sections of the test (Reading, English, Math, and Science). This finding reflects only a slight increase since 2009, when 23% met all four ACT College Readiness Benchmarks.
Prepsta, an innovator in social networking-based educational apps, announces the launch of Prepsta Vocabulary, the first in a suite of fun, interactive educational apps designed to help students improve their performance on the SAT and ACT standardized tests. With Prepsta Vocabulary, students can quickly and easily build their vocabulary and writing skills, while challenging friends to an interactive vocabulary building game. Prepsta Vocabulary is designed to take the boredom out of prepping for standardized tests.
The Prepsta Vocabulary app is currently available in free and paid versions on Facebook, Google Android, and the Apple App Store. Students can access up to 50 vocabulary words on the free version of the app to jump-start their test preparation. They can purchase a more comprehensive version of the app for $4.99 to access over 1,000 of the most commonly featured SAT vocabulary words and related vocabulary exercises. In both app versions, students can customize their learning using three ways to prep for tests: Study Mode, Test Mode, and Head-to-Head Challenge. Head-to-head challenge allows students to challenge their friends and other Prepsta Vocabulary app users on Facebook, in their state, country and around the world.
"Whether preparing at home or on-the-go, Prepsta Vocabulary goes beyond monotonous memorization and vocabulary drills to create a more fun, social and enriching learning experience," said Joe Solan, founder of Prepsta. "We are committed to developing fun and effective ways to help students prep for standardized tests by using collaborative learning methods like social media. We know students need to prep for standardized tests like the SAT, ACT, PSAT and AP exams, and that high school students like to challenge their peers in interactive games that utilize social media. Prepsta combines the best of both worlds by allowing students to bring their love of interactive gaming to prepping for standardized tests."
About Prepsta Inc.
Prepsta, an innovator in social networking-based educational apps, helps students prepare for college entrance exams and other standardized tests using interactive social media platforms to create fun, enriching and effective gaming and learning experiences. Prepsta is committed to using the interactive capabilities of mobile and social media platforms like Facebook, Google Android, and Apple iOS to help students achieve higher test scores and realize their college admission goals. Visit http://www.prepsta.net for more information.