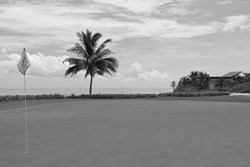 This new release will enhance the social features of TheGrint App.
Miami, FL (PRWEB) October 24, 2013
TheGrint's new app will have improved navigation and new functionality that will enhance the Golf GPS Rangefinder performance and the social features of its Golf USGA Handicap platform.
One of the key features that this new version will include is the "Friends" feature, which will allow to find and befriend other golfers. Up until know, TheGrint members were able to befriend people only through the website functionality. "The friends feature is well overdue, and we are finally able to deliver it to all of our members" - said J. Torbay, one of the founders of TheGrint.
The new release also has a new registration process that is more appealing and that allows the golfer to add a picture to his/her profile. While it sounds simple, the management team believes that enhancing the registration process will result in more complete profiles. This improvement is expected to result in more and better interaction between members.
Finally, the new version will also include better sharing functionality for both Facebook and Twitter. Golfers will be able to share round information after a successful round of golf. The company also announced that other sharing functionality will come in upcoming releases.
This release is the 4 release that the company have made in the last 3 months and it is another prove of their commitment to create the leading golf handicap tool of the industry.