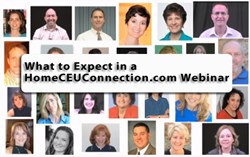 Really like the format and cost vs traveling and all the added expense of that.
Plano, TX (PRWEB) October 24, 2013
HomeCEUConnection.com, ASHA-approved provider of online continuing education for speech-language pathologists, expands their lineup of live, interactive webinars with several newly scheduled courses. The webinars cover a wide range of topics and generally broadcast evenings or weekends to accommodate therapists with busy schedules. These live, interactive online sessions fulfill continuing education requirements for speech-language pathologists in California and across the United States.
Upcoming sessions offer hours of relevant content that speech-language pathologists can apply in their daily work right away. The courses explore a wide range of topics including pediatric child development, dementia, dysphagia, pharmacology and reimbursement documentation, and much more.
Speech-language pathologists can expect the highest quality online continuing education at a reasonable cost and infinitely more convenient than traveling to onsite classes or conferences. HomeCEUConnection.com webinars are designed to deliver an enhanced learning experience, streaming premiere content directly to the busy therapist's computer or laptop. These live, interactive sessions include demonstrative videos (where applicable), detailed illustrations and interactive question and answer periods with highly respected educators.
"[I] really like the format and cost vs. traveling and all the added expense of that", enthuses Robert Hepp, a California Speech-Language Pathologist.
A full schedule of upcoming live continuing education for SLPs and their approval information can be found on the HomeCEUConnection.com website.
About HomeCEUConnection.com
HomeCEUConnection.com is a leader in providing quality online continuing education courses for Speech Language Pathologists, Physical Therapists, Physical Therapist Assistants, Occupational Therapists, Occupational Therapist Assistants, Athletic Trainers, Massage Therapists, and Certified Strength and Conditioning Specialists. We offer convenient, affordable and user-friendly courses that can be found in our growing course catalog.