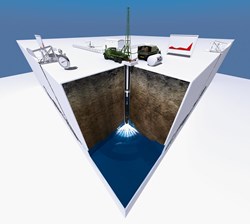 "As a replacement for a standard acid treatment, we evaluated the Plasma Pulse Technology treatment and became comfortable using it in place of our planned treatment. At this point, there is absolutely no doubt this technology works...."
Houston, Texas (PRWEB) October 23, 2013
Propell Technologies Group, Inc is pleased to report initial results from the first well treated in the Arbuckle formation in Stafford County, Kansas that is owned and operated by Richfield Oil & Gas Company (ROIL.QX)
The treatment was performed on October 1st, 2013 on Prescott #2 and is now back in service using a submersible pump with a substantial increase in production.
The company, working with Richfield Oil & Gas Company came up with a treatment plan that entailed treating 14 feet of existing perforations from 4152 feet to 4166 feet with its proprietary Plasma Pulse Technology, instead of performing an acid treatment.
Prescott #2 was drilled in 1953 and for the last several years the well had been producing approximately two (2) BOPD until treated with Plasma Pulse Technology. Immediately before the treatment the fluid level was measured at 1050 feet from the surface. After the treatment, the fluid level had gone up to approximately 500 feet from the surface and when Prescott #2 was put back on pump the initial production jumped to 40 BOPD.
Richfield Oil & Gas Company's CEO, Doug Hewitt, commented about the success of the plasma pulse technology on his Stafford County, Kansas oilfield. "We had budgeted to do an acid job to stimulate our well, anticipating 15 - 20 Barrels of oil per day. As a replacement for a standard acid treatment, we evaluated the Plasma Pulse Technology treatment and became comfortable using it in place of our planned treatment. At this point, there is absolutely no doubt this technology works and we look forward to further monitoring our results and the possibility of treating other wells. "
"There is no doubt in my mind that we have a game-changer, seeing is believing. When we initially ran the wire line down to correlate the perforations there was nothing but salt water on the wireline. After treating the well with our tool there was nothing but black gold on the wireline," said Mr. John Huemoeller II, Propell's President and CEO. "This now opens up a huge opportunity for us to work in Arbuckle formation that was once, one of the most prolific oil producing zones in the United States."
Since the early 1900's, several billion barrels of oil have been produced from the Central Kansas Uplift (CKU), primarily from carbonate reservoirs within the Arbuckle and Lansing-Kansas City (Pennsylvanian) Groups. The Arbuckle fields of central Kansas followed closely on the heels of the Arbuckle discovery in 1917 at El Dorado field in Butler County, Kansas, and these Arbuckle fields represent the first oil production in the western ranges of Kansas. Most Arbuckle reservoirs of central Kansas were drilled prior to 1955 and constitute a series of giant and near-giant oil fields.
About Propell Technologies Group, Inc, OTC Markets: PROP. – through its wholly owned subsidiary Novas Energy USA, Propell is the exclusive licensee of patented "Plasma Pulse" technology in the United States, which has been shown to significantly improve existing well recovery and production volumes. For more information, visit http://www.propell.com or call 713-227-0480, 1701 Commerce Street, Houston, Texas 77002.
SAFE HARBOR STATEMENT
This news release contains forward-looking statements within the meaning of the Safe Harbor Provisions of the Private Securities Litigation Reform Act of 1995. These forward-looking statements are often identified by the words "believe," "anticipate," "expect," "intend," "estimate," and similar expressions. All statements in this document regarding the future outlook related to Novas Energy USA and Propell are forward-looking statements, including but not limited to the initial results from the treated wells and the timing and release of future data. Such statements are based on the current expectations, beliefs, estimates and projections of management and are subject to a number of risks and uncertainties that could cause actual results to differ materially from those described in the forward-looking statements including the risk that the future data will not be as favorable as the initial results. Additional uncertainties and risks are described in our most recently filed SEC documents, such as our most recent annual report on Form 10-K and quarterly report on Form 10-Q. For a more detailed discussion of factors that affect Propell's operations, please refer to the Company's Securities and Exchange Commission filings. Copies of this filing are available through the SEC website at http://www.sec.gov. All forward-looking statements are based upon information available to us on the date hereof. Propell undertakes no obligation to update this forward-looking information.