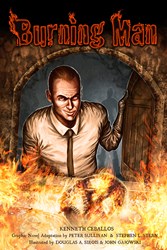 "Cremation is a business that's shrouded in secrecy," says creator Kenneth Ceballos. "I wanted to do something about that."
Los Angeles, CA (PRWEB) October 23, 2013
Kenneth Ceballos is a real-life cremator. At only 27 years of age, he's already cremated over 1,000 bodies.
"I learned everything I know from my father, who is still in the profession," he says. "Few people understand what we do, and in many ways, cremation is a business that's shrouded in secrecy. I wanted to do something about that."
When Ceballos met comic-book scribe Stephen Stern, best known as the creator of the long-running independent book 'Zen Intergalactic Ninja', an idea was born. "I'd never read a graphic novel whose central character was a cremator," Stern said, "so I wanted to tackle the subject."
To do so, Stern enlisted his friend, television writer/director Peter Sullivan, whose credits include 'Jersey Shore Shark Attack' and 'Abandoned', to help create the story.
"Kenneth schooled us in every aspect of the business," Sullivan said, "including having us witness an actual cremation."
A 60-page graphic novel illustrated in gritty black-and-white by Douglas Sirois and John Gajowski, who have worked on projects ranging from such staples as 'Hercules' to the zombie western, 'The South Shall Rise Again', 'Burning Man' is the story of August Goodfellow.
"He's far from your typical cremator," said Sullivan, who wrote the script for the book. "For starters, he believes he's on a holy mission, burning bodies for Nathaniel, the archangel of fire."
The story heats up in more ways than one when a brash young cremator with a hidden agenda is assigned to work with Goodfellow, and then meets his beautiful and sexy daughter.
More about the book can be learned at its website, http://www.burningmangraphicnovel.com.
"It's a psychological horror story with some shocking twists," said Ceballos. "I've been reading graphic novels for years," he said, "but there's never been one like this. It's an accurate portrayal of my profession and at the same time a ripping good yarn. I'm very proud of it. "
The 'Burning Man' graphic novel is available for download at amazon.com.