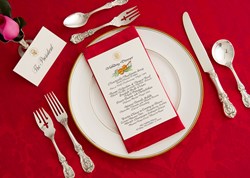 Everything you ever wanted to know about the White House Christmas celebrations.
Washington, DC (PRWEB) October 23, 2013
Dining at the White House-From the President's Table to Yours
A new book from renowned former White House chef John Moeller, who served three first families, gives readers a front row seat at the White House for the holidays, and pulls the curtain back on everything you ever wanted to know about the White House Christmas celebration, from the famous decorations to the highly sought after White House Christmas Party invitation.
"The first President I served, George H. W. Bush, didn't stay at the White House for Christmas, but the Clintons spent several of them there or at Camp David," recalls Chef Moeller who worked as a White House chef across three Administrations: President George H.W. Bush, President William Jefferson Clinton, and President George W. Bush. "When the First Family spent Christmas in Washington, we would confer with the social secretary to learn what style of Christmas the President and First Lady were planning, and what were their preferences for Christmas dinner. Usually, we'd prepare roast turkey and ham and anything special they wanted. Black peppercorn‐crusted ham was very popular. The family might request a certain type of sweet potato or some other traditional dish. Our main goal was to prepare a very nice home-style Christmas dinner—something they might have enjoyed in their own homes."
"In July, there's a natural tendency to think you have plenty of time to worry about Christmas later, but selecting a theme and building a schedule of events takes a huge effort and, as December approaches, you see with your own eyes how much work goes into the holiday preparations….The White House holiday season actually begins on the first weekend of December with a party in honor of the annual Kennedy Center Awards. Then we would immediately shift into reception mode for the next three weeks. With as many as three receptions per day – averaging from 350 to 500 guests each – we'd serve some 20,000 people during those three weeks at Christmastime. The immense workload needed to orchestrate and produce all these parties required us virtually to live at the White House for most of December. All the food we prepared had to taste and look really good – and everything about the presentation had to fit with the season's decorating theme. Coordinating food presentations with flowers, decorations, linens, and presidential china is a constant priority at the White House, but Christmastime added a little more complexity to our event planning."
"The White House is a beautiful establishment to begin with, but it undergoes a fascinating transformation for the holidays. Seeing this happen for the first time was a truly remarkable experience for me. The holiday makeover begins each year with the first family setting a decorating theme. Then, the head florist and the social secretary work closely with the family to come up with plans and designs for fleshing out the chosen theme. Finally, staff members carry out the actual decorating work, along with over a hundred volunteers. "
The book details the challenges of preparing très soigné cuisine in America's most famous home. The book includes recipes Chef Moeller created for formal events and more intimate gatherings (with chef notes for the home cook) and a behind-the-scenes glimpse at the challenges of cooking in the White House. Throughout the narrative, Chef Moeller promotes his trademark use of fresh, healthy ingredients in one-of-a-kind dishes inspired by his classical French training with an American twist.
A native of Lancaster, Pa., Chef Moeller has more than 30 years of experience as a chef, working in New England, the Burgundy region of France, the Caribbean, and at the White House serving three First Families and their guests. A graduate of Johnson & Wales University in Providence, RI for Culinary Arts, Chef Moeller also studied French at the University of Dijon and apprenticed as a chef in a number of fine dining restaurants in the Burgundy and Brittany regions of France. He became a White House chef in September of 1992, serving until 2005 – one of the longest tenured chefs across three Administrations. He currently is conducting a book tour and runs State of Affairs catering.
The book retails for $35.00 and is published by American Lifestyle Publishing, an imprint of LifeReloaded Specialty Publishing, based in Lancaster, PA. For more information, visit us on the web at http://www.DiningAtTheWhiteHouse.com. Like us on Facebook at http://www.facebook.com/DiningAtTheWH.
About LifeReloaded
LifeReloaded Specialty Publishing is a national award-winning publisher of print and e-books that specializes in working collaboratively with authors across a range of genres to develop and publish their books. LifeReloaded creates jobs in America by only printing in the USA.
###