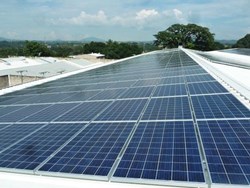 Miami, FL (PRWEB) October 23, 2013
Hilcasa and Panasonic Corporation, two companies committed to environmental conservation, have joined forces in a mega project developed in El Salvador. They are working together in creating clean energy from sunlight using photovoltaic panels Panasonic installed at the Hilcasa and Intradesa factory.
Both companies are committed to reducing CO2 emissions and investing in clean energy sources. This project had the companies install solar panels on the roof of a manufacturing facility to gather energy from the sun.
The installation of the 4,028 panel system which generates over 1MW was completed on September 25th.
The expected annual generation of Phase 1 of installation is 1.75 GWh, equivalent to a reduction of 551 tons of CO2.
The second phase of this project is expected to involve the installation of 1,680 panels, which would provide an additional 436Kw for the Hilcasa factory. This represents 0.85 GWh per year, reducing CO2 emissions by another 267 tons per year.
Furthermore, the sister company of Hilcasa, Intradesa, also plans an installation of 3,884 Panasonic panels. This project is expected to be positioned on the roof surface and to generate a total of 976 KW. This would reduce CO2 emissions by up to 257 tons a year. The Intradesa system will generate about 1.68 GWh per year.
This strong investment shows the commitment and forward looking vision Intradesa and Panasonic have to implement action for the good of the planet.
About Intradeco
Hilcasa and Intradesa are subsidiaries of Intradeco.
Intradeco is a socially responsible vertical manufacturer of textiles and finished goods based in El Salvador and Nicaragua. Since 1982, Intradeco Apparel has been a world class apparel supplier to the US apparel market. Intradeco wholly owns fully vertical operations in Central America in conjunction with operating global sourcing. The company's operations have grown worldwide, employing more than 6,500 people. Intradeco continues to supply quality fashion basics and thermal underwear, and has implemented major sustainable manufacturing processes. The company oversees production in Central America through its' subsidiaries – Inmobiliaria Apopa, Intradesa, and Prone. They have sales, design studios, and merchandising offices in Manhattan, Bentonville, and Miami. While operate their own state of the art distribution facilities in El Salvador and Miami, and maintain a network of distribution facilities in the west coast and northeast.
For more information, visit http://www.intradecoapparel.com.