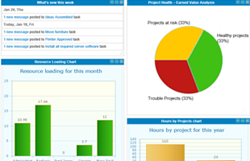 A finalist in the Jolt Product Excellence Awards
Toronto, ON (PRWEB) October 23, 2013
Logic Software Inc, developers of Easy Projects, an innovative project management solution for businesses all over the world, have announced that now customers can sign up for a free email course in managing projects and teams. The course's goal is to improve the learner's project management skills by looking at the best practices of motivating staff, satisfying customers and keeping books properly. The course is dedicated to three topics: managing project scope, defining project objectives and managing project resourses. Anyone can request a demo of the course from the website.
Logic Software Inc. is not only a provider of project management solutions but is also a company which has always dedicated itself to educating the public and its clients about project management through a system of high quality customer support and a project management study e-book. Its customer support is represented by online training, a help center and video tutorials for everyone who wants to learn more about the art of management in business. The online training course is divided into four parts: end-user essentials, system configurations, advanced PM, roles and permissions. Anyone can also request a demo of Easy Projects solutions online and see what the software products are all about for themselves.
The company is dedicated to bringing knowledge to more business people and its move to provide high quality courses to business people through email lessons reflects that desire and passion.
About Easy Projects
Easyprojects.net is a project management software product developed by Logic Software Inc., a Toronto-based custom software development company. In 2003 Logic Software Inc. was in need of a project management system and its owners were not satisfied with the options available on the market. So the solution that met their needs was created. It was called Easy Projects and was designed to focus on ease of use and adoption for its clients. The product soon became popular with the clients of Logic Software Inc. which prompted them to go for the commercial launch of the product.
In the years since its creation, Easy Projects has built a wide customer base and has received industry recognition. In 2008, Easy Projects was named a finalist in the Jolt Product Excellence Awards, the Oscars of the software industry.