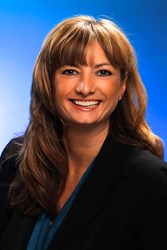 Search engines are most often the number one driver of traffic to a website.
Lombard, IL (PRWEB) October 28, 2013
As a follow-up to her recent speaking engagement at the LeadingAge Kentucky 2013 Annual Meeting & Expo, Nicole Wagner has published a series of new articles to help executives better understand search engine marketing techniques and enhance their results. Internet Marketing Director at Stevens & Tate Marketing, Wagner specializes in helping organizations navigate the ever-changing online landscape. The two articles, which are posted on the agency's blog, The Daily Twitch, address key actions that marketers can take to help strengthen their place in search rankings and get found more easily by prospects.
Wagner was driven to write the blog articles from the encouraging feedback she received from her presentation in mid September—and her passion to share her extensive Internet marketing expertise with a wider audience. The search engine marketing article series offers real-world insight that organizations can begin to incorporate into their marketing programs right away to experience success.
"Search engines are most often the number one driver of traffic to a website," Wagner said. "Addressing just a few specific actions involving your website and social media sites can drastically improve the rankings you receive on search engine pages," she continued. "The new articles outline these steps, and also focus on the role that social media plays in enhancing your results."
According to Wagner, many organizations still question using social media as part of their business marketing strategy. However, Google and other search engines place social media content and interaction about your brand very high on the list of things that are considered within the algorithm to produce search results. Given the fact that many people do not look beyond the first page of results after conducting a search, getting your brand ranked as high as possible is essential to staying ahead in today's competitive marketplace.
To explore this topic further and read more about successful search engine marketing or social media techniques, visit the Stevens & Tate Marketing blog.
Stevens & Tate Marketing is a full-service advertising agency offering award-winning, on-strategy creative; integrated message development; comprehensive marketing campaigns; Internet and digital advertising; and cost-effective media planning and execution. Stevens & Tate creates focused, targeted solutions for all its clients within business-to-business, food/grocery, retail, travel/tourism, healthcare, senior living, real estate and non-profit industries. Call (630) 627-5200.