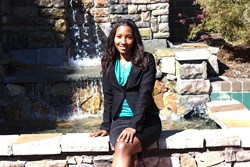 Prince George's County, MD (PRWEB) October 23, 2013
Shanice Miller has decided to take action regarding the rapid increase in student loan debt over the years. Student loan debt reached its 1 TRILLION dollar mark this year and the Senate's only solution is to give students fixed loans with a cap rate of 7%. A fixed interest rate will not help decrease the student loan debt amount, however, a step-by-step DVD series showing students how to graduate college debt-free will.
This debt-free college graduate graduated college 100% debt-free in May 2011 from the University of Maryland Baltimore Dental School. Not only did she graduate debt-free but the college paid her to go to college. Shanice received refund checks back from the college each semester. Just in her last 2 years of college, she received over $10,000 in refund checks and with that money, she was able to purchase her first home just 2 months after graduation.
Now, Shanice Miller is defying all rules and showing all students how they too can graduate college debt-free, just like she did, all in her straight forward DVD series. The easy to use DVD series shows all students, no matter what their GPA, SAT score, or their parent's income is, how they can graduate college without loans and without debt. The DVD series entitled "The Ultimate Debt-Free College Grad Success System" will be officially released this Friday, October 25, 2013, and will be available at http://www.debtfreecollegegrad.com/course.
The highly anticipated DVD disc series walks any student from start to finish step-by-step through the process of how they can easily graduate from college 100% debt-free without having to use a single penny of their own money or their parent's money. The 8-volume series even includes one disc that is completely dedicated to schools that offer students free tuition, one of which is Harvard University. The students that are fortunate enough to view and implement the easy to follow steps in this disc series will be able to leave college on the path towards financial freedom and will not have to feel the burden of Sallie Mae and paying back student loans each month for the next fifteen to thirty years of their lives.