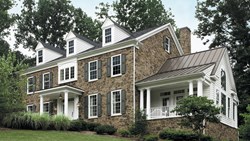 San Diego (PRWEB) October 23, 2013
Eldorado Stone, creator of the world's most believable architectural stone veneer, today announced that its entire line of products will be available at Connecticut Stone.
Connecticut Stone is an award-winning, family owned and operated, full-service natural stone company with locations in Milford and Middletown, Connecticut. For more than sixty years the company has offered a diverse array of stone products for both interior and exterior use.
"We're excited about our new partnership with Eldorado Stone," said Brie Pfannenbecker, Connecticut Stone Supplies, Inc. "Our commitment to providing clients exceptional service and products is a great match with the Eldorado Stone business philosophy and product line, it's an ideal fit for both parties."
"Having a distribution partner like Connecticut Stone expands and solidifies our presence in the region," says Eldorado Stone Vice President of Sales Brenda Harris. "Connecticut Stone's commitment to catering to the design needs of architects, custom builders, remodelers, designers and homeowners is the perfect fit for the Eldorado Stone brand."
The entire line of Eldorado Stone products are available at both Connecticut Stone locations, including the award-winning Eldorado Outdoor Artisan Fire Bowls that provide homeowners a design option to take the edge off of chilly evenings. Delivering warmth and distinctive style, these handcrafted creations bring the natural look and elegance of crafted limestone to any outdoor setting.
ABOUT ELDORADO STONE:
Eldorado Stone, LLC is headquartered in San Diego. It is a subsidiary of Headwaters Incorporated (NYSE: HW), a world leader in creating value through innovative advancements in the utilization of natural resources. Eldorado Stone currently operates manufacturing facilities in several states with regional distribution centers across the U.S. For more information and to view a gallery of beautiful installations, visit http://www.eldoradostone.com or call 1-800-925-1491 for a free catalog.