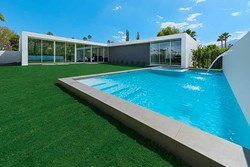 Palm Springs, CA (PRWEB) October 23, 2013
Tickets are on sale for the Palm Springs Modern Committee's Fall Home Tour, November 2, 2013, from 10:00 a.m. to 6 p.m.
The day long self-driving tour features eight residences in Rancho Mirage and Palm Springs, showcasing a unique assortment of custom built homes from the 1950s, 60s, and 80s on through to 2013 with the very latest in new contemporary design, all representing examples of modern architecture at its best.
The tour will include properties in the meandering hillsides of Little Tuscany, and Canyon Country Club, Mesa, Twin Palms and Las Palmas neighborhoods, concluding with a cocktail reception and tapas at the Merito Residence, the recent recipient of Palm Springs Modern Committee's (PS ModCom) 2013 Architectural Preservation Award. For those unable to attend the reception, please note that this house will be open for viewing at 4pm.
A limited number of tickets--close to sell out--are available for $125. They include the tour, cocktail reception and informational tour book. Order your tickets now to join us for a high-energy day of fun!
Proceeds from this event support PS ModCom's preservation initiatives, advocacy efforts, scholarships for local high school students, and promotion of heritage tourism via our Palm Springs Visitors Center kiosk, and the Palm Springs Modern Architecture map and mobile application.
About Palm Springs Modern Committee
The Palm Springs modern Committee is a non-profit organization dedicated to the appreciation and preservation of Desert Modern architecture and design. We accomplish this through education, advocacy for threatened buildings, promotion of heritage tourism and the celebration of success in preservation and adaptive reuse.
To purchase tickets http://www.psmodcom.org
For further information please contact Nickie McLaughlin, Executive Director
Nickie(at)psmodcom(dot)org (760) 835-5628