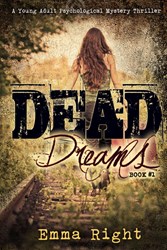 ...blog tours can include bloggers from the UK, Australia, New Zealand, Europe and even from India and Singapore.
San Francisco, California (PRWEB) October 24, 2013
Author and homeschool mother, Emma Right, (http://www. emmaright.com), an up and coming young adult book author of Kindle bestseller and Award Winner, adventure fantasy, Keeper of Reign, Book 1, and her latest young adult psychological thriller, Dead Dreams, announces the one hundred virtual book blog tours for Dead Dreams, on from October 20th until December 1st 2013. The list of blog tours hosted by book tour companies like Juniper Grove and Expresso Book Tours, just to name a few, also feature book bloggers and visitors to the different blog tours have the chance to win book prizes and Amazon gift cards.
As an author dedicated to homeschooling youngsters, including her own five homeschooled children, Emma Right says that a normal book tour, whereby authors visit various bookstores throughout the country is a limited option for momprenuers like her. Aside from the cost of travel, there is also the issue of time that store tours take—time that could be put to better use such as writing, and for authors to find new ways to market their books. In this day and age time is a currency that is often more valuable than money.
Book blog tours provide authors the opportunity to get his or her name out in the book world of readers and introduces the book to a wider audience who can come from anywhere in the world. Some book blog tours are only nationwide, although even these would still include bloggers from Canada as the internet blurs national lines. But as the bloggers from outside of the North American continent join in the band wagon, blog tours can include bloggers from the UK, Australia, New Zealand, Europe and even from India and Singapore. For October, November and a part of December, Dead Dreams Book1, a young adult thriller and suspense mystery will be touring some one hundred blog websites. For a full list of the bloggers and their website information, go to:  list of blog tours for Dead Dreams.
As a word of caution, although Dead Dreams is a young adult novel--and even though it is suspenseful and deals with themes such as deceit and, even, murder, it is still a family friendly novel--some of the bloggers who will be hosting Dead Dreams may have featured novels that are not in the young adult age range, similar to how bookstores carry a varied genre of books. So, some of the books bloggers promote are not family friendly and are not advisable for young adults.
Included in the webpage of the current blog tours are links and names of book bloggers featuring Dead Dreams with rafflecopters (not unlike a raffle) and giveaways connected to the tour features. Right hopes to follow the footsteps of indie authors, like Amanda Hocking, who have gone before her and utilized bloggers to promote her books.
About the author, Emma Right:
Emma Right is a happy wife, author of young adult and young teen books, and a Christian homeschool mother of five living in the Pacific West Coast of the USA. Besides running a busy home, and looking after her five pets, she writes, blogs, and is active in her homeschool community.
Right worked as a copywriter for two major advertising agencies and won several awards, including the prestigious Clio for her ads.
Contact Information:  Emma Right  Leave your comments on Emmaright.com or at emmarightt(at)gmail(dot)com  San Francisco , California, USA  Tel:650-4861231.