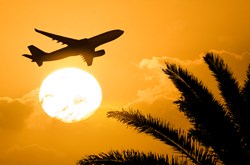 San Francisco, CA (PRWEB) October 23, 2013
It is relatively common knowledge that booking a fare well in advance will lead to a discounted ticket; however, most travelers are not aware of the perks of a last minute purchased fare. More times than not, an airline will be unable to fill all of their luxury seats, leading to massive discounts for those who have a more flexible flight schedule. Some airlines will offer newsletters promoting their best last minute deals; the luxury flight specialists at FlyBusinessCheap.com however, are well aware that most people who book late will not be checking newsletters, a quick call to one of their luxury flight specialists will lead to any and all existing opportunities for an on the spot discount.
Early bird catches the worm
Waking up several hours earlier than what some people might consider a reasonable time can potentially save hundreds of dollars on a luxury class ticket. There are drastically lower amounts of passengers flying luxury class at odd hours. Flights are leaving at all periods of the morning and night and each one of them are still carrying business and first class seats. Recreational luxury travelers usually don't like booking their departures for 5 a.m.; most of the passengers flying luxury at odd hours are traveling for work; this means there are many unsold seats, which leads to huge money saving opportunities for the opportunists among us.
Get a hold of an air pass
Surprisingly unknown to many travelers, an air pass is perfect for anyone planning a trip to multiple countries in a province such as Europe or Asia, or jumping from one city to the next in a larger country. Air passes are offered by many international airline partners as a bulk deal package of flights encompassing a specific region. Utilizing local national airlines, an air pass can save a traveler a lot of money and headaches by allowing a traveler to customize a flight schedule of their liking while incorporating special reduction rates.
Traveling off season means different things to different people
One might think that a summer flight to Europe in business or first clas s is out of the question, but, in fact the exact opposite is true! During the summer months luxury fares to Europe and surrounding regions are at their cheapest rates of the year. It is never safe bet to assume that a busy season will result in higher luxury fares, there are numerous variables like destination, airline selection, number of connecting flights, and hours of travel that will heavily dictate the rates of business or first class flight. Luxury class fares typically fluctuate in price a lot more often then economy class does.
Talk to a travel expert
The luxury flight specialists at FlyBusinessCheap.com are well aware of the best times to purchase a fare for the optimum price; they are constantly researching hundreds of sources in real time ensuring a traveler gets the best deal possible. Anyone who makes a call will be informed of the best purchasing time and even learn about fare predictions at specific times of the year. If waiting a little longer for a better price in the future is the way to go, they will let you know, it is their job to ensure travelers make the best purchase possible.
FlyBusinessCheap.com absolutely guarantees the lowest fares on the market for international first & business class flights and they work exclusively with the world's finest airline companies.
Give them a call and you will be routed directly to one of the 100+ luxury flight specialists available in any one of three office locations in San Francisco, New York, or Chicago.
Look no further than FlyBusinessCheap.com for the easiest, fastest, no hassles discount luxury flights.