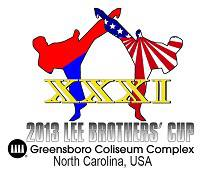 "With great pride and utmost respect I cordially invite you to the 2013 Lee Brothers Cup Invitational Championship, celebrating 31 years of excellence!" Grand Master Sang Ho Lee
Burlington, North Carolina (PRWEB) October 24, 2013
Lee Brothers' Cup TaeKwonDo Tournament brings family-friendly martial arts competition to the Greensboro Coliseum Nov 9, 2013.
Lee Brothers' Cup Championship TaeKwonDo tournament 2013
What: 31st year of the LB Cup TaeKwonDo tournament with individual & team competitions
When: Saturday, November 9th, 2013
Where: Greensboro Coliseum Special Events Center, 1921 West Lee Street, Greensboro, NC 27403
Who: Teams and competitors of all ages from ~ 25 schools across NC & VA
-Total competitor attendance ~ 650
-Total competitor + spectator attendance ~1500
Special Guests:
Former South Korea National team Coach Grand Master Seung Hyeon Nam
Olympic Gold medalist, Professor Kyung Hoon Kim
South Korean TaeKwonDo Diplomacy Foundation demonstration team
Brief overview: http://leebrotherskick.com/LBCUP/LBCUP.htm
Link to .pdf booklet with all the details for the Lee Brothers' Cup 2013: http://bit.ly/lbcup2013info
*Free admission for spectators!
Media opportunities:
Pre-tournament interviews with Grand Master Sang Ho Lee
Pre-tournament practice coverage (visit the academy in Burlington to see how they train for the Demonstration Team & individual competitions)
Local human interest story following a competitor or family as they prepare & compete (the family that kicks together, sticks together)
Tournament coverage on Nov.9th (press passes will be available)
Interviews with the special guests and Korean demonstration team
Main contact: Grand Master Sang Ho Lee, masterlee(at)leebrotherskick(dot)com, (336) 584-0993 for interviews, to schedule visits to the Academy, or tournament site
Tournament background:
Lee Brothers' Cup Championship started 31 years ago with Grandmaster HK Lee's vision of a well-rounded student with a unique sense of self and a high level of confidence and strength that shines beyond the traditional merits of a champion. This tournament was held in Mebane for many years, but has outgrown the facility, necessitating the move to the Greensboro Coliseum. The LB Cup was hosted in Cary in 2011 and Raleigh in 2012.
Areas of competition:
Individual:
Sparring
Board breaking
Poom Sae (forms)
Demonstration team:
10 minutes group exhibition highlighting TKD skill and creativity
The famous Lee Brothers:
Grand Master H.K. Lee (Herndon Va)
Grand Master K.S. Lee (Cary NC)
Grand Master Jun Lee (Raleigh NC)
Grand Master Byung Lee (Greenville NC)
Grand Master Sang Ho Lee (Burlington NC)
Master Jung Ho Lee (Raleigh NC)
These highly trained and internationally reputable Masters came from Korea to share the knowledge and training methods with their followers in America.
Tournament Chairman: Grand Master HK Lee
Tournament Directors: GM KS Lee, GM Jun Lee, GM Byung Lee, and Master Jung Ho Lee
2013 Lee Brothers' Cup Tournament Host: Grand Master Sang Ho Lee of Burlington, NC