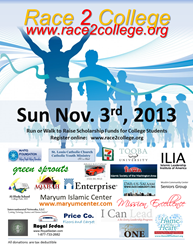 The first Muslim managed and organized race in the region, and brings opportunities for sponsorship, scholarship, community bonding and citizenship for people of all faiths and beliefs.
Baltimore, MD (PRWEB) October 23, 2013
Race2College a project of Islamic Leadership Institute of America (ILIA), a national 501c(3) educational non-profit organization founded in Maryland in 2009/1430 with the mission of nurturing students in areas of leadership development and training through the integration of innovative leadership styles and concepts, is thankful to announce the launch its Second Annual Race2College walk and run event.
Race2College is more than just a race it brings to our communities several key objectives:

help students finish school based on a merit and need scholarship
build bonds within families by providing an opportunity for parents and children to join the race
promote healthy life style in the community through learning about walking and jogging
outreach to others in the society send a message about Muslims being an integral part of addressing our country's everyday education issues
give back to the society
Last year, October 27th, 2012 was recognized by Howard County Executive Ken Ulman as Race2College Day. "I invite you and the community to be part of this important initiative this year by sponsoring our Race2College, which will be held at Druid Hill Park, Baltimore City on Sunday, Nov 3rd, 2013", stated Ayman Nassar, Founder and Chairman of Islamic Leadership Institute of America. Druid Hill Park is the third oldest park in the United States, and the event is expected to gain large media attention. The race starts at 8:00 am and covers 5K within the park. US Congressman Elijah Cummings (7th District, Maryland) issued a proclamation recognizing Race2College 2013.
Schools are invited to form teams to represent the school with as little as four students. Sponosrs from business and foundations are encouraged to sponsor schools through tax deductible donations. a sponsorship of $150 can allow 10 students to participate in the race.
Full details can be found at http://www.race2college.org.