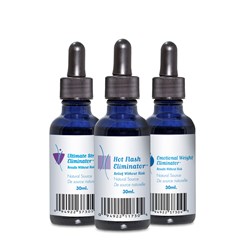 Emotional Weight Eliminator has changed my life! I feel better than I have felt in years.
(PRWEB) October 23, 2013
Eating to feed into emotional problems is a huge concern which many people may not be aware of. It is important to understand what can trigger emotional hunger and what can be done to eliminate emotional eating and weight loss. There is a new highly effective and safe product on the market, Emotional Weight Eliminator®. It helps to eliminate emotions that can trigger emotional eating causing weight gain. The product is not a drug. It is an all natural product made from carefully selected Australian Bush flower essences that targets emotional hunger triggered by stress, anger, sadness, loneliness and boredom. These essences are safe and will not interfere with any over-the-counter or prescribed medications. Emotional Weight Eliminator® is not only effective but works instantly by adding six drops under the tongue. Instantly, a feeling of calm and being in control of emotions occurs.
Some people eat to satisfy hunger, some eat to satisfy cravings, and then there are some that eat as a way to mask emotional problems. Unfortunately, emotional eating does not eliminate the emotional problems. The emotional problems remain with the added guilt of overeating and weight gain. It is important to learn what can trigger emotional eating and find ways to cope with the emotional problems without turning to food as a coping mechanism.
People turn to food in a moment of weakness, sadness, or anger, this experience is, emotional eating. Emotional eating is used to fill emotional needs by tricking the brain into thinking it will feel better rather than to fill the stomach. Emotional hunger will lead to mindless eating.
Everyone has used food from time to time as a reward or to celebrate. This isn't necessarily a bad thing, but when the first instinct is to open the refrigerator whenever a person is upset, angry, sad, lonely or even bored, they have allowed themselves to enter a unhealthy cycle where the problem is never addressed. Emotional hunger often leads to regret, guilt or shame. When one eats to satisfy physical hunger, they simply give the body what it needs and as a result, it is unlikely to feel guilty or ashamed. It is important to take note that if people feel guilty after they eat, it's likely because they know deep down that they're not eating to satisfy physical hunger.
Emotional hunger can't be filled with food. In fact, the opposite is true. One is left feeling empty and worse than before; wanting more, often eating until a feeling of being uncomfortable. However, eating for physical hunger will leave one satisfied when their stomach is full.
Emotional Weight Eliminator® immediately takes control of what caused the initial feeling of emotional hunger. Once the product is taken, instant calm, a feeling of being in control, and relief from feeling overwhelmed can be expected.
Emotional Weight Eliminator® was created by the Eliminators also makers of Hot Flash Eliminator and Ultimate Stress Eliminator. To learn more about all of the Eliminators products you may visit the company's website at http://www.hotflasheliminator.com or call 1-888-503-5274.