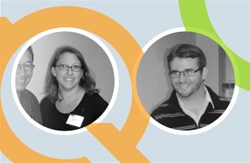 Emeryville, CA (PRWEB) October 23, 2013
Photo Science, Inc. a Quantum Spatial Company (Photo Science) staff members Melissa Christie and Matthew Coleman have been elected to the 2014 board of the Northern California Region of the American Society for Photogrammetry and Remote Sensing (NCR ASPRS).
Christie, who will serve as a Region Director, is a mapping specialist at Photo Science. Regarding her new role, Christie said, "It is an honor to be selected for the Regional Board position for NCR ASPRS. Having worked in the fields of GIS, remote sensing, and photogrammetry over the last 17 years, I have learned to have a quick, anecdotal retort for the question, "What do you do?" Lately, I have put aside the anecdotes and begun to briefly describe GIS and, if I still have a captive audience, segue into aerial photography and photogrammetry. Our profession cannot be summed up in one sentence. ASPRS reminds us "to advance the understanding of the geospatial and related sciences" and "to expand public awareness of the profession." My personal pledge is to make sure that when people ask me, "What do you do?" that my thoughtful reply stays with them, thereby expanding public awareness and advancing the understanding of geospatial sciences. My membership to a greater society is a daily reminder of who I am and what I do."
Christie has over 17 years of experience in GIS technology, photogrammetry, and remote sensing. In addition to serving as a Region Director for NCR ASPRS, Christie is also a member of the Bay Area Automated Mapping Association (BAAMA) chapter of URISA.
Coleman, who will serve as the Secretary/Treasurer, is a flight operations manager at Photo Science. Regarding his new role, Coleman said, "After being a member of the American Society for Photogrammetry and Remote Sensing for over five years, it is an honor to take the role of Northern California Region ASPRS Secretary/Treasurer. I will be working closely with the other NCR ASPRS Officers to promote and expand the geospatial community within the Northern California Region, which includes Northern California, Northern Nevada, and Hawaii. These are exciting times in the world of photogrammetry and remote sensing, with all the new technological and application developments. ASPRS is at the forefront of advancing knowledge and improving understanding of the new applications, and I am privileged to be part of the team."
Coleman has over 7 years of experience in LiDAR, film, and digital imagery collection. In addition to serving as the Secretary/Treasurer for NCR ASPRS, Coleman is also an ASPRS Certified Remote Sensing Technologist and is in the process of completing the program to be an ASPRS Certified Photogrammetrist.
Additionally, Devin Kelley will serve as the Immediate Past President of NCR ASPRS which includes chairing the Nominating Committee and being an advisor to the President. Kelley is a project director at Photo Science. Kelley has over 16 years of experience in the geospatial mapping profession. In addition to serving as the Immediate Past President for NCR ASPRS, Kelley is also an ASPRS Certified Photogrammetrist.
About Photo Science, Inc.
Photo Science, Inc. (Photo Science) is a geospatial solutions provider specializing in aerial acquisition (imagery and LiDAR), data collection/processing, photogrammetric mapping, mobile mapping, remote sensing, Geographic Information Systems (GIS), systems integration, and GPS surveying services. For more information please visit photoscience.com.
About Quantum Spatial, Inc.
Quantum Spatial, Inc. (Quantum spatial) is a leading professional services firm specializing in spatial data generation, integration, enablement, and analytics, serving the needs of clients worldwide. Quantum Spatial's goal is to improve our client's operations and decision making in areas such as Natural Resources, Government, Infrastructure, Energy, and Public Safety by utilizing the power of geospatial data and analytics through our unique cloud-based delivery infrastructure. For more information please call 1-855-255-5212 or visit quantumspatial.com.
About ASPRS
Founded in 1934, the American Society for Photogrammetry and Remote Sensing (ASPRS) is a scientific association serving over 7,000 professional members around the world. The mission is to advance knowledge and improve understanding of mapping sciences to promote the responsible applications of photogrammetry, remote sensing, geographic information systems (GIS), and supporting technologies. ASPRS has officially incorporated the tag line "The Imaging and Geospatial Information Society," as part of the ASPRS identity. This tagline is representative of the Society's "New Vision," as it makes the changes necessary to better position its focus for the future. For more information, please visit asprs.org.