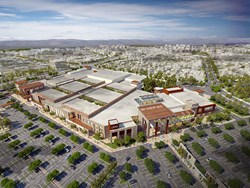 We are very excited about Piazza Urfa. It will bring new amenities - retail, entertainment, and dining venues – and create a new attraction and gathering place for the city
Sanliurfa, Turkey (PRWEB) October 23, 2013
Hollywood, CA based design firm, 5+design announces today the opening of its retail and entertainment center in Sanliurfa, Turkey, Piazza Urfa. Piazza Urfa will be the first shopping center to bring a modern retail experience to the historic Turkish city.
"We are very excited about Piazza Urfa," said 5+design partner, Michael Ellis. "It will bring new amenities - retail, entertainment, and dining venues – and create a new attraction and gathering place for the city. There are subtle references to the long history of the region in the design, in the use of local materials and the saving of numerous trees on the site, and we look forward to a great deal interest from the local population."
5+design designed Piazza Urfa in a way that reflects local culture and draws a distinct line back to the city's history. The past and present were harmoniously melded together in a design which embodies both the rich flavor of the ancient city while also standing as a contextually relevant modern building.
Referencing the city's unique historical landmarks, ancient ruins, and active archaeological sites, 5+design has blended modern design with historical motifs by incorporating these elements into Urfa's form. Deeply colored stone and copper walls accent the project's exterior, making reference to the traditional metal work sold in nearby bazaars. The interior is defined by free-standing arcade walls, which form arcaded passages within the retail complex. Skylights and clearstories above allow natural daylight into the building, diffused through patterned metal screens and cast mosaic shadows on the stone flooring.
The premier feature of the project is the Great Park, an impressive indoor/outdoor courtyard constructed around an ancient grove of existing deciduous trees. Landscaped dining terraces, lobby balconies and water features surround the Great Park, creating a local dining enclave and popular place for visitors. Adjacent to the park, a large central atrium provides a community gathering space as reprieve from the often warm summer months of Urfa.
ABOUT 5+DESIGN
Established in 2005, 5+design creates award winning architectural, planning, urban planning and interior designs for clients across the globe. Their innovative retail, residential, hotel and integrated mixed-use developments are designed to enhance their surroundings and improve the lives of those who populate and move through them daily
From designing contemporary master-planned communities in China and Egypt to numerous projects in Turkey, Russia, the United Arab Emirates and Asia, 5+design's expansive approach has led to collaborations with top real estate developers on some of the most progressive projects underway around the world.