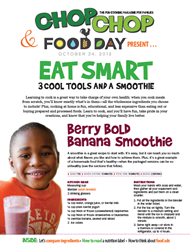 We have an opportunity to guide kids toward a healthier diet, and to encourage them to eat and cook real food with their families.
Watertown, MA (PRWEB) October 23, 2013
ChopChop Kids, the non-profit behind ChopChop: The Fun Cooking Magazine for Families joined forces with Food Day to create a nutrition toolkit for kids: a 4-page booklet that teaches kids what they need to know to make healthy food choices, from comparing ingredients and reading a nutrition label, to generating the knowledge and power they need to outsmart food advertisers. Available in English and Spanish, the toolkit is available in the Fall issue of ChopChop magazine and online at chopchopmag.org and foodday.org.
"We have an opportunity to guide kids toward a healthier diet, and to encourage them to eat and cook real food with their families," says Sally Sampson, founder of ChopChopKids. "Our mission and Food Day's are closely aligned—helping people Eat Real. We're thrilled to partner with Food Day in creating this resource to help kids make good choices about what they eat."
In addition to offering the toolkit to families, ChopChop will join thousands of organizations in celebrating Food Day on October 24th – a nationwide celebration and movement for healthy, affordable, and sustainable food. ChopChop will distribute copies of the magazine and the toolkit at select Food Day events as well as use social media to build support for the effort.
About ChopChop
Endorsed by the American Academy of Pediatrics, ChopChop, The Fun Cooking Magazine for Families, is a nonprofit quarterly food magazine. Published by ChopChopKids, Inc, a 501(c)(3), ChopChop's mission is to inspire and teach kids to cook and eat real food with their families. ChopChop was recently named the 2013 Publication of the Year by the James Beard Foundation, and is the only non-profit publication to win the award. ChopChop is also the recipient of a coveted gold award from the Parents' Choice Foundation, the nation's oldest nonprofit guide to quality children's media and toys— the only cooking magazine ever to win this designation. To learn more about ChopChop's mission, and to support the organization by subscribing to ChopChop Magazine or by donating to its cause, please visit http://www.ChopChopkids.org. Follow ChopChop on Twitter at @ChopChopMag, on Facebook at facebook.com/ChopChopMagazine or on Pinterest at pinterest/ChopChopMag.
About Food Day
Food Day is a nationwide celebration of healthy, affordable, and sustainably produced food and a grassroots campaign for better food policies. It builds all year long and culminates on October 24. Started in 2011, Food Day has grown bigger each year. In 2012, nearly 3,200 Food Day events took place across the country bringing attention to a wide variety of food policy issues, including diet and health, sustainable agriculture, conditions for food and farm workers, animal welfare, and hunger. Senator Tom Harkin (D-IA) and Representative Rosa DeLauro (D-CT) serve as honorary co-chairs of a Food Day advisory board made up of some of the most prominent nutrition authorities, chefs, and health officials in the country.