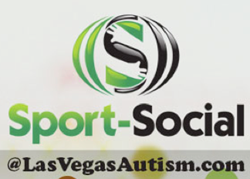 The new format will provide a higher quality of services.
Las Vegas, Nevada (PRWEB) October 23, 2013
After winning $100,000 in the Project Ves.to Nevada start-up competition, autism facility Sport-Social has improved and redesigned its programming and is hosting a Grand Re-Opening this Friday, October 25 from 5-9 pm. The Grand Re-Opening is open to the public. Sport-Social owner and founder Andrew Devitt says, "We are thrilled with the recent changes happening at Sport-Social. We can't wait to show the improved facility and introduce our new programming to the public."
Andrew Devitt will be presenting the new program format at 6:00 PM. The new Sport-Social programming focus will be teaching specific social and behavioral skills to children and young adults of all ages and abilities. After being evaluated, the child will be placed a group with other children of similar skill sets, and they will learn sports, the arts, and "classroom." The child will meet benchmarks based on social and behavioral goals created by the family and Sport-Social's behavioral consultant. Devitt says, "The new format will provide a higher quality of services for the families who already love Sport-Social. I think the kids and the parents will be excited to see a more organized approach to the services."
In addition to the new Sport-Social programming, the facility will also offer one-on-one private skill lessons where children can learn to master a skill like riding a bike, painting a mural, or playing the drums. Each instructor will be very specialized in the skill the child is learning. Sport-Social is also offering an exciting new after- school camp, providing a safe, positive, and social environment for children afterschool.
For more information on the Grand Re-Opening and the new programming, visit Sport-Social's Facebook page at http://www.facebook.com/sportsocial.