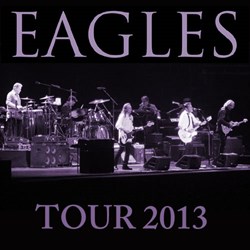 Fans wishing to attend an Eagles concert at the Forum can still find tickets at a site like EaglesTour2013.com and not pay a significant premium.
Los Angeles, CA (PRWEB) October 22, 2013
Eagles Forum tickets sold out for some shows with a limited number still available for a few of the 6 Los Angeles concerts. Sold out concert dates in other cities usually results with tickets at a premium in the resale market. The Eagles New York City concerts, for example, even with three concert dates at Madison Square Garden, can start at well above their original face value. An effect of announcing 3 Eagles Los Angeles concerts and weeks after they went on sale putting out another 3 concerts dates means a high number of tickets in the resale market. Between this glut of tickets and the fact that a small amount of seats for a few shows still remain available at the box office, the price of tickets for all Eagles LA concerts remain fairly close to their face value compared to other popular sold out performances. So fans wishing to attend an Eagles concert at the Forum can still find tickets at a site like EaglesTour2013.com and not pay a significant premium.
The Eagles Los Angeles concerts will serve to officially reopen the Los Angeles Forum for its new owners, the Madison Square Garden Company. These three shows in January 2014 look to cap the Eagles Tour 2013 with a special flare as the Forum seeks to reintroduce the venue with a grand splash. Tickets for all of these concerts may be bought at EaglesTour2013.com before they go on sale to the public, after they sell out at the box office and right up until showtime with last minute tickets. Seats available at EaglesTour2013.com include cheaper areas, premium seats and floor tickets.
Formerly known as a top spot for concerts, the Los Angeles Forum once hosted the likes of Led Zeppelin, The Rolling Stones and The Eagles. In fact, some of the songs from the live Eagles album came from recordings at Eagles concerts at the Forum. In addition, the Los Angeles Forum, technically in Inglewood, California, played home to the Los Angeles Lakers and the Los Angeles Kings. Everything changed for the Forum after the opening of the Staples Center. At one time the Forum acted as a huge church. Recently Madison Square Garden Company bought the Forum with an eye toward returning the facility to its place as a great concert hall. Before they finish, Madison Square Garden plans a 100 million dollar investment for renovation and purchase of the Forum. They hope the Eagles Forum shows only represent the first chapter on a very long new history for the former Great Western Forum. So far in addition to the 6 Eagles Forum shows LA music fans can also buy Justin Timberlake tickets and Imagine Dragon seats for their performances in Inglewood at the new Forum.
The Eagles and Madison Square Garden come to this announcement as much more friends than strangers. In November 2013 the Eagles Madison Square Garden concert events in New York City include three tour dates that ranked as some of the hottest tickets on the resale market when they released. Elton John New York City tickets just went on sale for the public to buy recently as well with four Phish tour dates to wrap up the year at MSG. In addition Madison Square Garden host the New York Rangers NHL and Knicks games in the NBA.
The Eagles tour 2013, known as the History Of The Eagles Tour, got underway in early July and continues through late January 2014 with these new LA Eagles concerts. Along the way, The Eagles play tour dates all over the United States and Canada. Band members participating in the History Of The Eagles Tour 2013 include Glenn Frey on vocals, guitars, keyboards, harmonica; Don Henley on vocals, drums, percussion, guitar; Joe Walsh on guitars, vocals, keyboards and Timothy B. Schmit on bass, vocals, acoustic guitar. With many calling this a final tour or farewell tour, fans drained the box office of tickets in many locations leaving sold out shows. For an idea of what songs you might hear on the concert, check out the Eagles Set List from recent shows so far. Note that the band announced they will play some songs they never played live before at the Eagles Forum concerts in Los Angeles. If Los Angeles looks like too far a drive, get some plane tickets and LAX hotels to make a weekend of it.
The Eagle Tour 2013 site, in conjunction with Tickets-Cheapest.com, operates in the ticket resale market, similar to sites like Stub Hub, which concert fans may be familiar with, only with cheaper prices than other such sites. Often Tickets-Cheapest.com sells the exact same seats as other resale sites, and in an exact seat price comparison, Tickets-Cheapest.com proved its rights to the name by beating 25 out of 25 competitors for low-priced tickets. Give EaglesTour2013.com and Financial Firebird's Cheap Tickets sites a try for great prices to see great performances. Eagles Los Angeles tickets went sale for the public to buy for the latest 3 Forum concerts last week and fans can purchase all Eagles tickets early at EaglesTour2013.com and Tickets-Cheapest.com to get their seats reserved now.
About Financial Firebird and Cheapest Tickets
The site to buy cheap concert tickets online, and its sister sites, including the site to purchase seats at a NY Broadway show like Motown Broadway tickets, all geared for the consumers looking for low prices, are affiliated with the Financial Firebird Corporation Travel Group, and stand among the top sites sought by travelers and people who enjoy concerts, pro sports and theater performances. Financial Firebird Corporation, established in 2000 and a proud BBB member, provides unbiased consumer information particularly involving personal unsecured debt or mortgages, software and marketing services. These sites for consumers to buy tickets online operate in the resale market and maintain no relationship with the venues or performers. The resale ticket market allows consumers access to popular events once the box office has sold out or to buy premium seats when the venue no longer offers any inventory. Within the group of these secondary market ticket services, the Financial Firebird owned ticket sites offer lower prices than competitors. Find the sites at EaglesTour2013.com and Tickets-Cheapest.com.