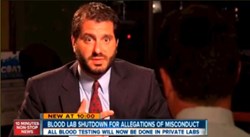 Instead of fixing the problems and making it better, the State punted.
Denver, Colorado (PRWEB) October 23, 2013
The Colorado Department of Health announced on Monday October 21 in a press release that its forensic toxicology laboratory is closed permanently as far as DUI blood testing is concerned.
The laboratory, which as recently as July handled the majority of blood tests in the State for DUI and drugged driving cases, closed after an internal report released in June revealed that there was bias toward the prosecution in the environment where the testing was being conducted. The report was detailed in a story by The New York Times on June 10, 2013 titled "Colorado State Lab Accused of Mishandling Evidence" by Jack Healey.
DUI attorney Jay Tiftickjian, of the Colorado Criminal Defense Bar's board of directors, told 9News Colorado on Monday that the decision was not the right one. Instead, he advocated for the reopening of the lab, but with better operating procedures and protocols, and legislation that made for strict compliance for the admission of blood alcohol and drug tests in court as opposed to the current legal standard of substantial compliance.
Tiftickjian told reporters at 7News The Denver Channel on Monday that the decision will cost the taxpayers of Colorado a substantial amount of money, as now blood tests in DUI cases will be outsourced to private forensics laboratories. The cost of outsourcing and paying employees of the private laboratories to testify in court will be a substantial cost. Instead, Tiftickjian argued for the State to fix the problems that existed in an effort to provide accurate, transparent, and neutral science.