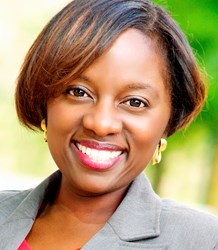 I was holding my sister in my arms when she took her last breath, and I know how hard she fought against breast cancer.
Atlanta, GA (PRWEB) October 23, 2013
October is Breast Cancer Awareness Month and around the country, the nation is painting its towns pink. Angela Ray, author and motivational speaker, is doing her part as well to acknowledge the breast cancer survivors and families directly affected by breast cancer by giving the gift of inspiration through one of her books, as well as a special day of pampering for one selected survivor.
The issue of breast cancer is a personal one for Ray. In 2009, she lost her only sister to breast cancer and witnessed firsthand the challenges, the emotional anguish, and the pain that her sister experienced during both her treatment and as she lost her battle to the disease. "I was holding my sister in my arms when she took her last breath, and I know how hard she fought against breast cancer. I don't have a cure or millions of dollars for research, but this is my way to let survivors know that I care."
Ray will be extending the Kindle version of her book, Rays of Motivation for free on October 23 through October 24, 2013 to the public. "I know words of inspiration can positively impact individuals battling illness and it is my hope that my book can be that inspiration." With advances in technology, a Kindle Reader is no longer required to enjoy an e-book. E-books can be downloaded to a tablet, laptop or even a cell phone, which makes it convenient to have inspiration and encouragement on the go.
While anyone can download the book during the two days, only breast cancer survivors are eligible for the day of megastar treatment. Ray has teamed up with a group of philanthropic small business owners to provide a day special for one individual. The package includes a designer breast cancer awareness bracelet courtesy of Expressions Bracelets and an overnight stay in Atlanta along with breakfast for two. "I could not make this happen on my own, so I am grateful to the other businesses that lent their support," Ray stated.
In addition, Holmes Healing Hands will provide a 30 minute massage. Omar Holmes, the owner of the business joined this effort without any hesitation. "I am always willing to provide help for something special and important like this," Holmes said. Celebrity makeup artist Alex Lucas, who served as the lead make-up artist on the show, The Braxton Family Values will be providing a complimentary makeover. Lucas was actually the first business owner to donate his services to the effort.
And for ongoing melodic inspiration, national recording artist and jazz vocalist Yolanda Rabun is gifting a copy of her single, "Hold on To Your Dreams." Rabun has opened for Jennifer Holiday, sang with Howard Hewitt and sang her blend of smooth jazz and soul throughout the world.
To be considered for the day of megastar treatment, breast cancer survivors can send an email to Survivors(at)raysofmotivation(dot)com and share how the book impacted them. One respondent will be randomly selected from all entries. Entries will be accepted through midnight on October 31, 2013.
Ray is also the host of a new internet show, also called Rays of Motivation, which premieres new episodes each Wednesday. On Wednesday, October 23rd, the episode will feature Dr. Eunice Dudley, co-founder of Dudley Beauty Corp, an international hair care and beauty cosmetics company. The company was featured in the Chris Rock documentary Good Hair, and has been in business since 1967. Dudley is also a twelve year breast cancer survivor.
"I originally wanted to gift a group of survivors with a complimentary paperback copy of the book, but I have not been able to do that yet," Ray said. "I know it will take some corporate partnerships and I am not giving up on that goal."
About Angela Ray International
Angela Ray is an award winning speaking and author who has spoken to thousands of audiences around the country. In addition to speaking, she helps small business owners develop their voices as speakers both on stage and the page so that they can increase their income, impact, and influence. A recognized authority on communication and leadership, Ray is committed to transforming lives and developing megastar leaders.