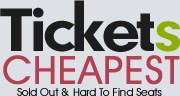 Tickets-Cheapest.com provides a way to buy concert tickets even after a sell out at the box office. Tickets-Cheapest.com maintains a large inventory of tickets for sold out shows including premium seats and floor tickets for the most popular events.
Nashville, TN (PRWEB) October 23, 2013
Offering some of the cheapest concert tickets in the resale market, Tickets-Cheapest.com provides music fans with a way to buy a ticket for their favorite group even after a sell out at the box office. Tickets-Cheapest.com maintains a large inventory of tickets for sold out shows including premium seats and floor tickets for the most popular events like George Strait, Jason Aldean, Cher, Florida Georgia Line and Billy Joel.
The George Strait concert dates coming up look to further etch George Strait, already known as the King Of Country, into the record books. Shows for The Cowboy Rides Away Tour began earlier in 2013 and run through a 2014 schedule ending in Arlington, Texas this spring. The George Strait Staples Center concert date in Los Angeles sold out in only 9 minutes, so tickets from the box office may be tough to buy. Some of last week's George Strait concert dates only took a few hours or less to sell out for shows such as Austin, San Jose and Wichita. Luckily, at GeorgeStraitConcertDates.com a large inventory of concert tickets remain available including premium seats and floor tickets. George Strait announced in 2012 that this "Cowboy Rides Away Tour" would stand as his last concert tour. This Friday concert tickets for the George Strait Nashville show with special guest star Sheryl Crow go on sale for the public to buy.
In addition to the George Strait Nashville show, other popular country music acts will place concert tickets on sale this weekend. Other events releasing tickets include Jason Aldean concerts for Baltimore, Charlottesville, Grand Rapids and Kansas City going on sale Friday. A Florida Georgia Line date in Chattanooga already made tickets available for the public to buy earlier this week.
The new Cher concert dates mark her return to the stage on a national tour for the first time since 2005 to promote a new album entitled Closer To The Truth. The Cher Tour 2014 goes by the name Dressed To Kill which may be a hint for anyone mistakenly expecting Cher to dress in a conservative pants suit. Fans will likely hear Cher classics from older tunes such as Half Breed through songs like Believe and Turn Back Time right up to singles from the new record like Woman's World. Many tour dates already opened up for public sale with Little Rock, Arkansas on sale to buy Friday.
While still a rumor, some information indicates a 2014 Billy Joel tour will play two concert dates in Sunrise Florida near Fort Lauderdale and one in Jacksonville. Part of the rumor claims the Billy Joel Jacksonville tickets will go on sale for the public to buy this Saturday.
Tickets-Cheapest.com operates in the ticket resale market, similar to sites like StubHub, which concert fans may be familiar with, only with cheaper prices than other such sites. Often Tickets-Cheapest.com sells the exact same seats as other resale sites. In an exact seat price comparison, Tickets-Cheapest.com proved its rights to the name by beating 25 out of 25 competitors for low-priced tickets. Give Financial Firebird's Cheap Tickets sites a try for great prices to see great performances. George Strait, Cher and Jason Aldean tickets go on sale for the public to buy on October 25, 2013, but fans can purchase some of these tickets early at Tickets-Cheapest.com to get their seats reserved in advance.
Check out Tickets-Cheapest.com for all ticket needs when looking for seats to sold out concerts. For the most popular shows they offer a large inventory of seats with costs less than other resellers including concert tickets at prices cheaper than than StubHub. This weekend marks a great time to think about a show with George Strait, Cher, Jason Aldean and Florida Georgia Line all putting tour dates on sale for the public to buy.
About Financial Firebird and Cheapest Tickets
The site to buy cheap tickets online, and its sister sites, including the site to purchase a New York theater ticket like Motown On Broadway, all geared for the consumers looking for low prices, are affiliated with the Financial Firebird Corporation Travel Group, and stand among the top sites sought by travelers and people who enjoy concerts, pro sports and theater performances. Financial Firebird Corporation, established in 2000 and a proud BBB member, provides unbiased consumer information particularly involving personal unsecured debt or mortgages, software, travel and marketing services. These sites for consumers to buy tickets online operate in the resale market and maintain no relationship with the venues or performers. The resale ticket market allows consumers access to popular events once the box office has sold out or to buy premium seats when the venue no longer offers any inventory. Within the group of these secondary market ticket services, the Financial Firebird owned ticket sites offer lower prices than competitors. Find the site at Tickets-Cheapest.com.