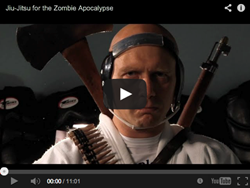 Grappling skills will be essential for surviving the upcoming zombie apocalypse
Vancouver, British Columbia (PRWEB) October 23, 2013
Brazilian Jiu-Jitsu black belt instructor Stephan Kesting has released a new humorous video about surviving the zombie apocalypse.
In his opinion, Jiu-jitsu doesn't get any respect when it comes to zombies. And this is the result of a fear-mongering agenda by the military-industrial complex.
"Arms dealers and weapons manufacturers want you to believe that survival in the upcoming zombie apocalypse is completely dependent having access to heavy weaponry at all times," Kesting explains.
Of course, Kesting says, shotguns, assault rifles, handguns, swords, baseball bats, pitchforks, flamethrowers and other weapons of mass carnage will be extremely useful when the zombie apocalypse actually envelops us. There is no denying the effectiveness of these tools when it comes to surviving zombie attacks.
"But having this much weaponry within arm's reach is generally incompatible with life in modern society. Most workplaces, for example, frown on employees carrying multiple, large firearms. So we are left with a difficult choices: carry heavy weapons at all times and be a social outcasat, or lead a regular life but be woefully unprepared for the zombie apocalypse when it does hit."
That is why black belt Brazilian Jiu-jitsu instructor Stephan Kesting has released a free Youtube video entitled 'Jiu-jitsu for the Zombie Apocalypse'. Drawing on more than 30 years of martial arts experience, Stephan Kesting debunks certain common myths about fighting zombies, and shows you which grappling techniques will and will not work in the middle of full blown apocalypse.
These are the essential grappling and jiu-jitsu techniques you need to know to get past the zombie hordes to your ridiculously oversized vehicle in order to begin your long and hazardous journey to the safe zone.
Knowledge is power. So study, train and be ready! http://www.youtube.com/watch?v=kb7-SpJdgQI