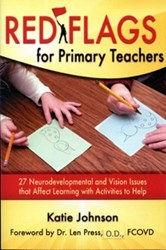 "All of us should have this book tp recommend to parents of our patients!" - Dr. Tanya Marpahoun, Napa CA
Orlando, FL (PRWEB) October 30, 2013
During the Annual Meeting of the College of Optometrists in Vision Development (COVD), Katie Johnson spoke with many of the attending developmental optometrists about her new book, Red Flags for Primary Teachers: 27 Neurodevelopmental and Vision Issues with Activities to Help.
"All of us should have this book in our offices, to show to parents and to recommend to schools," commented Dr. Tanya Marpahoun, of California.
The connection between vision abilities and reading skills is very clear to most optometrists but the majority of classroom teachers have no experience or understanding of the problem.
"Teachers seldom if ever ask a child, 'What are the words doing when you are reading?' and they should," says Johnson, who taught first graders to read for thirty-five years in Maine and Washington. "When a child is having trouble reading or even learning to read, it is likely that as many as one in four children have inadequate vision issues such as teaming or tracking abilities," she has written.
Tracking is when the eyes move smoothly across the lines of print in a book or on a paper the child is reading. If the eyes jump or shift quickly either vertically or horizontally, the child cannot see clearly what she is reading and cannot understand the words because they sometimes seem to be actually moving, too.
Teaming is the ability of the eyes to work together, to be able to focus on the print. Sometimes children whose eyes are not teaming report that the words move on the page, that they see double, or that the print is fading from black to gray and back again.
To try to read when your eyes are not working with you is exhausting and, since the children don't have any idea that it isn't like that for everyone else in the class, they feel stupid and discouraged.
All children should have their vision screened as they begin school, as they do now, for distance; they should also be screened for how their eyes are working (or not) together.
Katie Johnson's book, Red Flags for Primary Teachers, is written for the primary teachers whose children are failing and giving up because of how their eyes are working -- or not. Teachers should be sure their students get to a developmental optometrist for help, too.