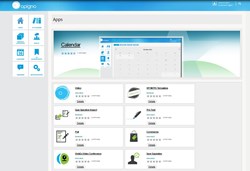 (PRWEB) October 28, 2013
Opigno answers the expectations of many professionals and individuals who are looking for an optimized and qualitative LMS.
The objective is to propose an accessible e-learning solution that fits every organization's needs:

Companies, in order to provide online training,
Universities and teachers to propose online courses, exams, seminaries,
Etc...
A great emphasis was put into its usability. Everyone is free to charge, or not, the access to its online courses through the e-commerce module, to develop and customize the platform as needed through its exclusive App store.
Opigno is already equipped with many features from managing profiles and access levels, quota by class or by course, timetables and even features related to the accreditation of diplomas or certificates of achievement, etc... Opigno also offers a powerful editor for the creation of courses contents, as well as a wide range of quizzes.
Opigno ambitions to offer a powerful and flexible e-learning portal which will facilitate learning and personalized education, according to your own expectations and requirements.
Being built on Drupal, Opigno remains therefore fully customizable and able to be integrated with all Drupal modules, allowing it to evolve according to each user's wishes and needs.
Professional support is also available and provided by the company that developed Opigno.
For more information, you can visit http://www.opigno.org.