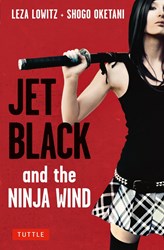 Rutland, Vermont (PRWEB) October 25, 2013
Available on October 29th from Tuttle Publishing, "Jet Black and the Ninja Wind" is the first in a projected trilogy for young adult readers. Jet Black is a seventeen-year-old girl, living on a Navajo reservation, who happens to be the last female ninja in the world. There's only one problem—she doesn't know it yet.
Jet has never lived a so-called normal life. Raised by her single Japanese mother on a Navajo reservation in the Southwest, Jet's life was a constant litany of mysterious physical and mental training. For as long as Jet can remember, every Saturday night she and her mother played "the game" on the local mountain. But this time, Jet is fighting for her life. And at the end of the night, her mother dies and Jet finds herself an orphan—and in mortal danger.
Fulfilling her mother's dying wish, Jet flies to Japan to find her grandfather and protect a family treasure hidden in her ancestral land. She's terrified, but if Jet won't fight to protect her world, who will? Stalked by bounty hunters and desperately in love with the man who's been sent to kill her, Jet must be strong enough to protect the treasure, preserve an ancient culture and save a sacred mountain from destruction.
In "Jet Black and the Ninja Wind," multiple award-winning author, poet and translator team Leza Lowitz and Shogo Oketani make their first foray into young adult fiction with a compulsively readable tale whose teenage heroine must discover if she can put the blade above the heart—or die trying.
Leza Lowitz has written over seventeen books, including the Amazon best-selling title, Yoga Poems. Her numerous awards include the PEN/Oakland Josephine Miles Poetry Award, a PEN Syndicated Fiction Award and the U.S.-Japan Friendship Commission Award from the Donald Keene Center at Columbia University. Her writing has appeared in the Huffington Post, Harpers, The New York Times and on NPR's "The Sound of Writing."
Shogo Oketani is a martial artist, editor, translator and the author of the critically acclaimed middle grade novel J-Boys: Kazuo's World, Tokyo 1965. Lowitz and Oketani live in Japan with their young son.
"Jet Black and the Ninja Wind" is available for pre-order on Amazon.com, BN.com and directly from the publisher at TuttlePublishing.com. It can also be found in bookstores everywhere.
About Tuttle Publishing
Established in 1948 by Charles Egbert Tuttle Jr. in Rutland, Vermont and Tokyo, Japan, Tuttle Publishing is the premier publisher of English language books on Asian culture. Today, Tuttle maintains an active offering of books on a wide range of topics, including Asian culture, Asian literature, Asian architecture, Eastern spirituality, gardening, cooking, martial arts, crafts, travel, health and wellness, and fine art for a worldwide audience.