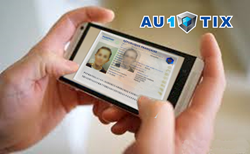 The AU10TIX BOS solution automated the identification, authentication and conversion of ID document images to workable digital records that can feed right into the service process. And right into risk analysis solution such as FICO offers.
Nicosia, Cyprus (PRWEB) October 25, 2013
According to a recent FICO decision analytics, criminals eyeing the German market have been shifting attention to remote channels. Thanks in large part to the success of the German chip and PIN security system some criminals use compromised credit card information while others use counterfeit or stolen cards. Consequently, the rate of card-not-present (CNP) fraud on Germany's credit cards has rocketed in 2012 to around 70% (http://bankinganalyticsblog.fico.com/2013/09/cnp-accounts-for-70-of-german-card-fraud-.html)!
FICO's solution to the threat is a traffic decision analytics system that flags transactions that fall outside of the cardholder's specific online spending patterns. Such a solution may work quite well, provided that the card has been issued by a genuine customer using genuine personal details. According to global KYC regulations, such details must be verified using the client's government issued ID documents (ID card, passport, driving license, etc.). That exactly is the week link that helps lets in some of the more damaging fraud cases. Once a criminal "white washes" an identity using fraudulent ID documents, from the point of view of the decision analytics system he or she are totally legitimate… until proven otherwise, sometimes weeks or months later.
To help close this loophole (and at the same time save operating costs and accelerate online and mobile customer acquisition and qualification) AU10TIX has introduced the BOS (Back Office Service) solution as early as 2012. The AU10TIX BOS solution automated the identification, authentication and conversion of ID document images to workable digital records that can feed right into the service process. And right into risk analysis solution such as FICO offers. AU10TIX BOS is designed to handle ID images that customers can produce using mobile phone or tablet cameras, desktop scanners, webcams, or any common digital imaging device of fair quality. The AU10TIX solution is in active deployment by online and mobile service providers in regulated market verticals.
"Service providers find out very quickly that online and mobile are a different ball game", says Ron Atzmon, Managing Director of AU10TIX: "Those defenses that help protect against fraud in customer-facing situations do not work in customer-not-present (CNP) situations. It is already obvious to everyone that regulations require a solution for authenticating and processing online and mobile submitted ID images. That's not instead of traffic risk analysis but as necessary 'front-end' security and pre-processing layer".
"It is not just about more effective fraud protection", says Ofer Friedman, VP Marketing of AU10TIX: "By automating the authentication and conversion of images to workable records you can process more applications and respond to them faster than you could with manual processing. So this is also about the ability to improve conversion rates. It is also about a more effective and cost-efficient back office operation. The combination of better fraud protection and regulatory compliance, with improving business prospects and operating efficiency is what makes AU10TIX BOS so compelling".
About AU10TIX
AU10TIX Limited, a fully owned subsidiary of ICTS International N.V, deals with the authentication and digitization of identifying documents including Passports, identity cards, driving licenses and other complementary identifying documents. The company specializes in implementing hardware & software based applications used for scanning, identifying, content retrieval, authentication and validation of identifying documents. AU10TIX is a pioneer of all-channel (front-end and online) ID authentication and processing solutions. The company's products drastically reduce identifying document-based fraud, reducing the costs associated with client processing and enabling effective regulatory compliance, while making the sales and support operations speedier and considerably more efficient. For more information, visit http://www.au10tix.com.
About ICTS International N.V.
ICTS specializes in the development and implementation of innovative security concepts and solutions designed to meet the needs of a variety of industries, mainly aviation transportation, border control and sensitive facilities. ICTS International benefits from 30 years international experience in transportation security, with a particular emphasis on high-risk environments, passenger processing transactions and the integration of security services to provide a comprehensive security solution. It also offers a wide variety of customized training programs, tailored procedures and a wide range of security consulting services. The company has developed and implemented unique technological solutions, based on its comprehensive approach to security, designed to enhance the level of security while accelerating the security check process. For more information, visit http://www.icts-int.com.
This press release contains "forward-looking statements" within the meaning of the Private Securities Litigation Reform Act of 1995, regarding the Company's business strategy and future plans of operations. Forward-looking statements involve known and unknown risks and uncertainties, both general and specific to the matters discussed in this press release. These and other important factors, including those mentioned in various Securities and Exchange Commission filings made periodically by the Company, may cause the Company's actual results and performance to differ materially from the future results and performance expressed in or implied by such forward-looking statements. The forward-looking statements contained in this press release speak only as of the date hereof and the Company expressly disclaims any obligation to provide public updates, revisions or amendments to any forward-looking statements made herein to reflect changes in the Company's expectations or future events.
Contact:
AU10TIX
Ofer Friedman, VP Marketing
Email: ofer.friedman(at)au10tix(dot)com
Tel.: +972-50-4 71 71 50
ICTS International NV
Alon Raich
Email: mail(at)ictsinternational(dot)com
Tel.: +972-974-47770