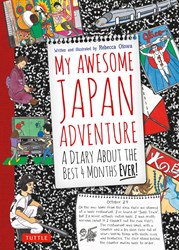 North Clarendon, VT (PRWEB) October 27, 2013
The Association of Booksellers for Children, now a part of the American Booksellers Association, awards 150 children's books with the honor each year. This year marks the 21st annual awards and the first honor of its kind for Japan-based author, Rebecca Otowa.
Told in the playful voice of Dan, the young narrator, Otowa's book treats readers to an inside look at what it's like to be an exchange student in Japan. "Ever heard of micro sushi? Have you played karuta before? Neither did I, until I spent four months in Japan living with a Japanese family." Young adult readers, adult readers, children, and fans of Japanese culture will be taken on Dan's many adventures, from the Ninja village of Tokyo to a traditional brush painting class. Other adventures include:

My First Week of School
Fun with Origami
Practicing Aikido
Making Mochi
"My Awesome Japan Adventure" will be available wherever books are sold beginning November 5, 2013.
About the Author and Illustrator
Originally from California, Rebecca Otowa is a writer, painter and teacher who — during her thirty years in Japan — has become a wife, mother, grandmother, and the chatelaine of a 350-year-old farmhouse in Shiga, Japan. She is the author of At Home In Japan.
About Tuttle Publishing
Established in 1948 by Charles Egbert Tuttle Jr. in Rutland, Vermont and Tokyo, Japan, Tuttle Publishing is the premier publisher of English language books on Asian culture. Today, Tuttle maintains an active offering of books on a wide range of topics, including Asian culture, Asian literature, Asian architecture, Eastern spirituality, gardening, cooking, martial arts, crafts, travel, health and wellness, and fine art for a worldwide audience.