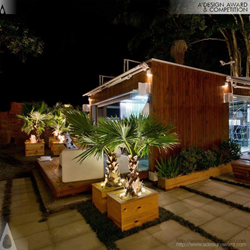 Como, Italy (PRWEB) October 25, 2013
A' Design Award and Competitions are pleased to share that the project House of The Future by Betina Gomes has been granted the renowned Silver A' Design Award at Architecture, Building and Structure Design Competition.
Concerning House of The Future
This design brings new concept of home and construction. A creative design, where sustainability, mobility and technology meet, presenting a multifunctional portable house that accompanies you wherever you go. The design enables the possibility to change layouts, switch living elements according to mood and occasion, adapt different needs at a touch of a button. The House of the Future is the construction where living well is not measured by the size of the house but by the functionality of its space, and this only happens due to the use of state-of-the-art technology integrated with the use of sustainable resources.
To learn more, visit: http://www.adesignaward.com/design.php?ID=29013.
The Silver A' Design Award
The Silver A' Design Award is a prestigious award given to top 5% percentile designs that has carried out an exemplary level of quality in design. The designs are judged by a panel of three different jury which is composed of Academic, Professional and Focus Group Members. The designs are evaluated with score normalization to remove any biases and are voted on aspects such as functionality, ergonomics, engineering, presentation, innovation, usability, fun details, technology, and any other specific points that could be considered, each of these points are further weighted for different jury groups.
About A' Design Award and Competitions
A' Design Award and Competitions, aims to highlight the excellent qualifications of best designs, design concepts and design oriented products. A' Design Award and Competitions are organized and awarded annually and internationally in multiple categories to reach a wide, design-oriented audience. Learn more: http://www.whatisadesignaward.com.