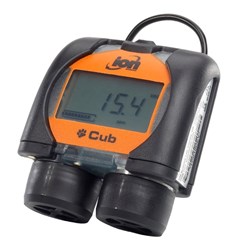 A new way of monitoring for Benzene.
(PRWEB UK) 31 October 2013
If a company's employees are effected by the presence of Benzene in the workplace, then Shawcity (alongside Ion Science) have created this simple yet effective solution to help you monitor Benzene.
The CubTAC is a small personal monitor that sits comfortably on a worker persons clothing.
The CubTAC, a small personal monitor is worn by all personnel on-site to continuously monitor for Total Aromatic Compounds (TAC), including Benzene.
If a CubTAC alarms, a Tiger Select is then used to verify any aromatics present.
A Tiger Select is a revolutionary hand held gas detector that can hold a Benzene ready tube filter which can simply be attached to detect the presence of the harmful gases.
A CubTAC alongside a Tiger Select is providing an innovative solution for not only measuring Benzene but also detecting early signs of it's presence. This means it is the most accurate and reliable benzene monitor available.
To see Shawcity's offer on buying the CubTAc and/or the Tiger select please download the attached brochure.
If you would like further information on either the CubTAC or the Tiger Select, then please visit our website - Benzene Monitors.