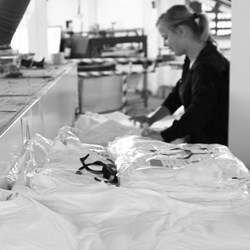 [The new range] reflects our company ethos: fashionable, sustainably produced and at a great value.
Shoreditch, London (PRWEB UK) 28 October 2013
To meet demand and a 100% year-on-year increase in sales since 2010, the London-based garment printing and promotional clothes supplier Icon Printing is expanding its product range.
The new range includes 100% organic t-shirts, sweatshirts and other garments, manufactured by the German clothing brand Stanley & Stella.
"New and exciting brands like Stanley & Stella are popular with our fashion and merchandise clients," says Director Alex Econs. "We believe they reflect our company ethos: quality premium apparel that is fashionable, sustainably produced and great value."
Specialising in promotional clothing, uniforms and merchandise, Icon Printing's services include screen printing, direct-to-garment printing and embroidery, and post production services such as re-labelling and polybagging.
Founded in 2010 in Shoreditch, the heart of London's creative and tech industries, Icon Printing customised less than 30,000 t-shirts in its first year. Today sales of custom garments are over 150,000.
Additionally, Mr. Econs explains, "Our rapid turnaround times, customer service and design background distinguish us from other promotional clothing companies; we find our clients regularly come back for more. We hope the new range will give our customer's more choice and ensure they get maximum value from their budgets."
Icon Printing supplies promotional clothing and bags to over 2000 businesses, often in the media, tech & fashion industries, such as Harvey Nichols and Channel 4. Other clients include gym clubs, breweries, restaurant chains, charities and events companies.
Last month, Icon Printing moved to larger premises in Rivington Street, Shoreditch. The company plans to hire more people in marketing and customer services, and has invested in wider online marketing strategy.
Follow Icon Printing on Twitter: @iconprinting
Like Icon Printing on Facebook: https://www.facebook.com/iconprinting