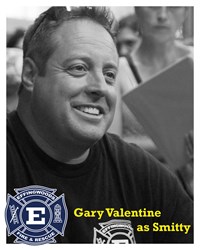 'Kickstarter allows our fans to be a part of the filmmaking process,' said McKinney.
Portsmouth, New Hampshire (PRWEB) October 24, 2013
New Hampshire's Juston McKinney is proud to launch his biggest project to date, "Hosed the Movie" on Kickstarter. "Hosed" is a hilarious account of a volunteer fire department in the fictitious town of Effingwoods, New Hampshire. "Hosed" began as a web series, written and created by McKinney, and generated a large following among fire personnel, many of whom claim Effingwoods is a spot-on parody of their own fire departments.
An all New England team, including award-winning director Marc Dole, produced the series, which chronicles the lives of department heroes who serve their community every day. It garnered wide support from fans and fire departments around the world. Inspired by the swelling fan base, McKinney and Dole decided to make "Hosed The Movie". "Kickstarter allows our fans to be a part of the filmmaking process," said McKinney.
Visit here to to see the "Hosed the Movie" Kickstarter project: http://kck.st/H6diFu
New faces will be introduced to the cast as well as returning favorites including Gary Valentine, best known as his role as Cousin Danny on the hit CBS sitcom, "The King of Queens", and Lenny Clarke of "Rescue Me". The series has piqued the interest of some of the industry's best comedic talent, who are considering taking various supporting rolls.
The idea for "Hosed the Movie" comes from McKinney's seven years as a rural Deputy Sheriff patrolling the New Hampshire/Maine border, when on numerous occasions his only back up was a volunteer firefighter. "Working hand in hand with volunteer fire departments gives you a lot of respect for people willing to put their life on the line for no money. At least I was getting ten bucks an hour." McKinney quipped.
While McKinney penned the screenplay, Dole will be directing the venture. "Cast and crew alike have loved working on this project, and we are extremely excited to visit Effingwoods again," said Dole.
About Juston McKinney
Juston McKinney is about to release his new standup comedy special; "On Mid-Life Support", and has two Comedy Central Specials and appearances on The Tonight Show with both Jay Leno and Conan O'Brien. He has had television development deals with Warner Brothers, CBS productions, IFC and Comedy Central.
About Marc Dole
Marc Dole is an award winning filmmaker, Alumni of the New Hampshire state film commission, and received New Hampshire Filmmaker of the Year Award in 2010. Marc spends his day producing and directing national commercials and viral videos for top brands in the US. His indie films have been screened in over 100 film festivals around the world, winning 20 first place prizes. Marc recently co-produced and edited "Only Daughter" a film by Aaron Wiederspahn that just received Film of the Year at the New Hampshire Film Festival this past weekend.
About Kickstarter
Kickstarter is an online community that contains a pledge system for funding creative projects. The film has a budget of $900,000 with a Kickstarter goal of $200,000. The money raised from Kickstarter will help fund the pre-production costs. Meeting this goal will also show how popular the project is with the audience, helping the Hosed team to obtain the remaining $700,000 from private investors.
The team plans to shoot the film in early 2014.
The "Hosed The Movie" Kickstarter campaign launched October 17, 2013 and runs through December 3, 2013.