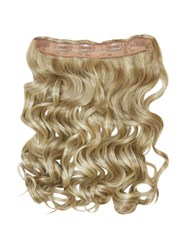 (PRWEB UK) 24 October 2013
Leading professional supplier of luxury hair and beauty products online, Hairtrade.com, has unveiled a revolutionary new range of 'onepiece' hair extensions within the company's I&K brand of extensions.
I&K's Onepiece Synthetic Clip In hair extensions, made from the most luxurious synthetic fibre, is a full set of hair that can be placed under your own to instantly add volume and length. It is now exclusively available on Hairtrade.com in a wavy style in 8 shades, including those suitable for highlighted hair.
Unlike individual pieces of hair that take longer to place and secure, the product from I&K's synthetic hair collection can be fitted in approximately one minute. The synthetic fibre gives a natural look while the clips keep the hair secure.
The hairpiece can be blended easily, concealing the clips, as it is a smooth and more natural-looking single layer of extensions. The Onepiece Synthetic Clip In Hair Extensions are styled wavy and are 24 inches long when straight.
A free colour match service is also offered by Hairtrade.com which can be completed by simply emailing a photo of your hair colour. A Hairtrade.com colour specialist will then advise on the correct shade to achieve the desired result.
Laura Meredith at Hairtrade.com said: "The launch of the I&K Onepiece Synthetic Clip In Hair Extensions has been in the works for a while now so it is a very exciting time for Hairtrade.com as we welcome the product to the market.
"We have already received great feedback about its ease of use and effective appearance, and are anticipating that customers will love the fuss-free transformation that it offers. The piece can be worn on a daily basis as it is so quick to fit but it is also perfect for a special occasion."
The I&K Onepiece Synthetic Clip In Hair Extensions are priced at £19.99, and are available alongside a range of human hair extensions and hair care products online at http://www.hairtrade.com or by calling 0845 051 0342.
-ENDS-