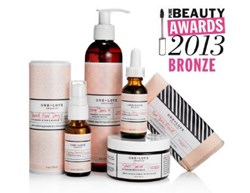 The award celebrates One Love Organic's dedication to produced high quality, ethical beauty products.
London, UK (PRWEB UK) 2 November 2013
The Pure Beauty Awards celebrate the best in beauty - acknowledging the most efficacious, exciting and innovative products launched over the past 12 months.
One Love Organics is an artisanal beauty brand created by beauty alchemist Suzanne LeRoux. The US brand started with a simple premise: use only the highest quality, most effective ingredients that directly benefit the skin. The company's one of a kind, plant based formulas feature the finest, most effective ingredients on the market, such as award-winning organic chia supercritical extract, farm fresh Bulgarian rose oil, and clinically proven D'Orientine S.
Suzanne LeRoux, president of One Love Organics, says: "Everyone here is delighted and honoured to win a Pure Beauty Award. Our team of skilled cosmetic artisans work tirelessly to produce the highest quality skin care and to have our work recognized and listed among the world's top beauty brands is a dream come true."
This prestigious award follows on from a successful PR campaign. Launched this summer, One Love Organics has already received coverage within the likes of Grazia, LOOK, ES Magazine, Cosmopolitan and the Daily Telegraph.