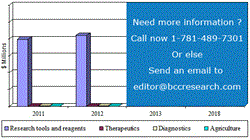 Wellesley, MA (PRWEB) October 25, 2013
According to a new technical market research report, RNAi Technologies and Global Markets from BCC Research (http://www.bccresearch.com), the global RNAi research tool and reagent, therapeutic, diagnostic, and agriculture market was valued at almost $210.2 million in 2012 and is expected to reach $220.3 million in 2013. BCC Research projects the market to grow to $290 million by 2018, and register a five-year compound annual growth rate (CAGR) of 5.7 percent from 2013 to 2018.
RNA interference (RNAi) has become an integral part of the biological research, pharmaceutics, diagnostics, and biotechnology industries. Indeed, RNAi provides tremendous benefits to the scientific research community and also has huge potential in therapeutics and diagnostics. New drug candidates are entering clinical trials with encouraging results, sparking renewed interest in RNAi drug delivery research and emerging RNAi-related technology development.
The RNAi research tool and reagent segment is the most established area of the RNAi market. However, the RNAi drug development segment has the greatest potential. According to BCC Research, the biggest obstacle for realizing RNAi's pharmaceutical potential is RNAi drug delivery. In fact, the technological foundation of many RNAi drug development companies is the RNA delivery intellectual property (IP). The potential market for the drug development segment is worth billions of dollars, but due to the difficulty in drug delivery, there are currently no RNAi drugs in Phase III clinical trials, not to mention approved in the marketplace.
Meanwhile, the RNAi diagnostics segment is the fastest growing segment, and RNAi biotechnology in agriculture is the newest area to be explored. RNAi biotechnology in agriculture is the newest development in the market. This segment, however, may provide a faster return than the RNAi drug development segment because of the lower approval hurdles.
According to BCC Research, ongoing research and development spending, further diversification of RNAi therapeutics companies from human medicine to veterinary medicine and agriculture, and an increasing number of players entering the biomarker development space will drive growth in this market for the foreseeable future.
This report from BCC Research report provides an overview of the current state of the RNAi market, focusing specifically on RNAi research tools and reagents, drug discovery, and diagnostics. It describes the available technologies and the major players currently working in the market, as well as detailed analysis of the competitive environments, including new potential trends in research and product development. This report also identifies the main factors affecting each segment and forecasts market growth, future trends and product development for every major market segment.
The RNAi market is complex, consisting of a number of different segments. This report is intended for business development professionals, entrepreneurs, and other investors who need to fully understand and properly evaluate each segment of the market for RNAi research tools reagents, drug developments, diagnostics, and agriculture. It provides insights into the market position of major companies and presents new opportunities overlooked or less known to the business communities.
Source:http://www.bccresearch.com/pressroom/bio/global-RNAi-research-tool-reagent-therapeutic-diagnostic-agriculture-market-grow-$290-million-2018