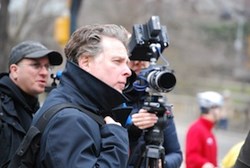 Viewers have had a really positive reaction to our showcasing of some remarkably innovative urban parks
New York, NY (PRWEB) October 24, 2013
ExpertFlyer.com®, the premier online air travel information tool, which now offers its award-winning Seat Alerts® feature as a free app to all travelers, went One-on-One with Thomas Rigler of Rigler Creative, creator and executive producer of the KCETLink travel series, City Walk. The eight-part television series explores the walkability of six U.S. cities, their rich history, and how our growing interest in seeing the sights on foot is transforming lives and landscapes across America.
During our interview, Thomas Rigler explains the motivation for creating the series, what he has learned from the experience, and how walking through culture-rich neighborhoods, parks, and other landmarks provides a more rewarding experience for travelers and residents alike.
"Viewers have had a really positive reaction to our showcasing of some remarkably innovative urban parks," explains Rigler. "The High Line in New York City and the BeltLine in Atlanta are perfect examples of how urban designers are breaking new ground to make the outdoors more available to you and me."
Aside from New York and Atlanta, City Walk explores the cities of Boston, Washington, D.C., Portland, Oregon, and even Los Angeles, which is where it all began for Rigler. "I came to L.A. from Europe," says Rigler, "where most cities predate the automobile and thus were designed to be pedestrian-centric. But newer cities like LA were designed for cars, and City Walk allows us to delve into how communities across America are changing that."
"Travelers have really taken to exploring their destinations on foot to get a real sense of the culture and other amenities cities have to offer," explains Chris Lopinto, president and co-founder of ExpertFlyer.com. "Exploring a city is no longer measured by distance covered, but by immersing yourself in the neighborhoods that can only be experienced on foot. City Walk does an excellent job of sharing how travelers can achieve that level of experience."
City Walk plans to explore additional cities in the coming months, including Chicago, Detroit, Miami, New Orleans, and Arizona, among others. City Walk is executive produced by Thomas Rigler and Juan Devis, Vice President of Arts and Culture Programming, KCETLink.
To read the entire interview with Thomas Rigler, please visit ExpertFlyer's blog.
About City Walk
City Walk is a unique eight-part television series that reveals the way walking is transforming cities across America, and in the process, re-connecting us to our bodies, our civic values, and our public spaces. Season one of City Walk features 30-minute episodes exploring various aspects of pedestrian life in cities including: Los Angeles, Portland, Boston, Atlanta, Washington D.C., and New York. As the show explores the walkability of these communities, viewers will discover culturally rich neighborhoods, stunning architecture, historical monuments, and beautiful parks that beg to be experienced on foot.
About Rigler Creative
Rigler Creative is a full-service transmedia production company based in Pasadena, California, delivering award-winning film and video production along with integrated marketing and online solutions for brands, studios, agencies, and networks. For more information, visit riglercreative.com.
About ExpertFlyer.com
Each month, ExpertFlyer's One-on-One blog goes face-to-face with the travel industry's leading decision makers to discuss and address topics relevant to many of today's business and frequent travelers.
ExpertFlyer.com was conceived and created by an eclectic team consisting of a veteran elite tier frequent flyer, an airline captain and corporate travel manager, and information technology professionals to deliver a 24/7 real time powerful air travel information service. The company provides its subscribers and corporate travel managers alike with a complete, concise, and efficient way to access the ever-changing details of worldwide air travel information. For more information, please visit expertflyer.com.
# # #