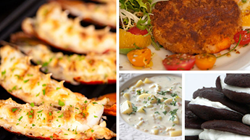 (PRWEB) October 23, 2013
GetMaineLobster.com is a Maine seafood delivery service offering live Maine lobsters, Maine seafood dinners, and seafood appetizers, sides and desserts. Its founder, Mark Murrell, grew up in Maine and his fondest memories involve gatherings of family and friends enjoying live Maine lobsters and all of the seafood that the cold waters of Maine have to offer.
These memories have fueled his passion to deliver live Maine lobsters and Maine seafood dinners overnight to anyone within the continental United States so that anyone can share in the experience. And while GetMaineLobster.com works closely with its lobstermen to maintain consistently low prices year-round, the seafood delivery specialists are taking their service a step further by offering to match any online seafood delivery special.
In addition, the customer service team at GetMaineLobster.com loves talking with seafood lovers everywhere and getting them even more excited about everything Maine has to offer, which is why they are more than happy to offer custom specials over the phone. By calling (866) 562-4817, a friendly customer service specialist will help put together a special that works for you, whether it is a romantic dinner for two or a larger event or celebration.
This week's Maine seafood delivery specials include a $159.00 Seacoast Lobster Dinner for 4, a $139.00 Tail and Chowder Feast for 4, Naked Lobster Rolls (8) for only $139.00 and several specials on Maine lobster tails starting at just $129.00. Give the team at GetMaineLobster.com a call to discuss custom specials or if there are any online seafood specials to be matched.
To learn more about GetMaineLobster.com, browse its wide range of seafood offerings, and to access lobster recipes or view current specials, visit GetMaineLobster.com or call (866) 562-4817. Stay updated and Like the Get Maine Lobster page on Facebook.
About GetMaineLobster.com
GetMaineLobster.com, a division of Black Point Seafood and Black Point Gourmet, hand-selects the finest Maine lobster, seafood and beef products for convenient distribution throughout the United States. Their passion is to make fresh, quality seafood readily available to customers across the country, which is why they buy from only the most trusted, well-established suppliers to ensure that they receive the finest products available.
GetMaineLobster.com was selected out of the more than four million small American businesses served by Chase bank to represent its new Platinum Business Checking product for its 2013 national advertising campaign.