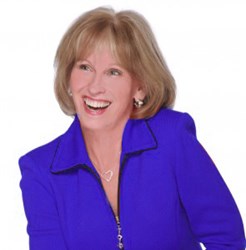 You know you have nailed it with your keynote message when the audience continues to refer to the content long after the event is over! - Corum
Dallas, TX (PRWEB) October 23, 2013
In a busy, 24/7 world, there has never been a more important time to adopt empowered STANDOUT leadership skills. Keynote Speaker Connie Podesta, using her signature, straight-forward, game-changing style, shares powerful leadership techniques in her visually stunning new book. "Leadership", Connie says, "is part of us all—like it or not. We are always in a position to impact the attitudes, behaviors or core values of those around us." Reviewed as "insightful!" "Right on target!" And "Definitely a must-read!" StandOUT Leadership pulls no punches when it comes to the traits that successful leaders have in common.
Pulled from her two-time, gold-medal-winning best business book of the year, 10 Ways to Stand Out From the Crowd, Connie brings real-world strategies to those who aspire to grow, adapt and be the one others would fight to follow--regardless of their title or position.
"Leadership isn't about a corner office or impressive title," says Motivational Keynote Speaker Connie Podesta. "It's about how people act rather than react when life throws unexpected obstacles and challenges in their path. EVERYONE is a leader. And everyone has the capacity to teach, inspire, motivate or be the catalyst for change for all the people in their lives. Actions, words, and attitudes will have either a negative or a positive effect on those around them -- from colleagues and coworkers, to family and friends, to customers and clients. The incredible thing is how the choice to lead or not lead is always ours to make."
An expert in the psychology of Human Behavior and Leadership, Connie has an uncanny ability to share what makes people tick so her readers can solve the "people puzzle". Connie turns this powerful little eBook into a delightful and inspired experience that changes perspectives and jump starts momentum. It literally takes the reader inside their own minds to unlock their own potential for leadership. It also gives a glimpse of what makes other's tick, so that they might better know how their choices and actions can and do make a difference in the lives of those around them.
"StandOUT Leadership is absolutely the most innovation, unique Leadership ebook in the market today. Visually, it captures your attention and draws you in," shared Julie Escobar. "And as a leadership guide? It shares a perspective on leadership most have never experienced. Empowered. Engaging. And right on the money for anyone eager to find their edge in today's competitive world."
From the front line to the corner office, people eager to succeed need to:

Understand their role as leaders regardless of position or title
Adopt to new cultures, communication styles and strategies
Break free from the status quo and accept new challenges
Kick up their courage quotient and allow their own leadership skills to shine
Recognize and encourage leadership in those around them
Connie Podesta's Stand Out Strategies are empowering organizations and leadership teams to let go of old ideas and traditionally old habits and training trends and unlock their true potential for building long-term referral business in a world that requires a much higher standard of service.
"I love speaking to leadership teams. The energy, enthusiasm and willingness to learn often fills the room," shares Connie Podesta. "It's exciting to see the 'light bulbs' come on as people connect with the ideas, strategies and fresh new mindsets that will help them grow their businesses and create the wealth and security they are looking for. I wrote this book just for them because seeing them succeed at their highest level is just an amazing gift for me, for them, their families and the organizations they represent. It doesn't get better than that!"
For more information on Podesta's schedule and availability or to learn more about her captivating new eBook, StandOUT Leadership, contact her team today at 972-596-5501, via email at info(at)conniepodesta(dot)com. You can visit her website online at http://www.conniepodesta.com.