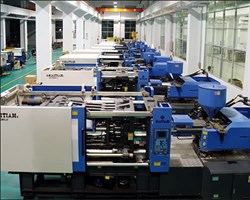 (PRWEB) October 23, 2013
Custom molded plastic products can provide extremely valuable benefits for people. Not only can users enjoy conveniences brought by these plastic products, but it's also a way to create innovative designs in a short time. Today, Wuxi Glory Plastics announces discounted offers custom molded plastic products are available at its website.
According to a senior manager of the company, the custom products are specially designed to meet various clients' requirements, because molded plastic products can be applied in many industries, and the customers many come from many various industries. Wuxi Glory Plastic combines next generation technology with remarkable simplicity and commitment to service, which can result in a special and unique purchasing experience
Wuxi Glory Plastic is a well-known company in plastic molding industry. Recently, the company has updated its website to add new products and designs to its product line. The updated website has created a list of tips for customers of custom molded plastic products. Not only does Wuxi Glory Plastic provide comparisons, but the site is also known for its unbiased opinions about various companies products.
The CEO of the company says, "Customer satisfaction is a key principle for us and we put a great emphasis on delivering to the customer demands and expectations. We are striving to produce high quality molds that perform just as well as the ones displayed at some trade shows."
Wuxi Glory Plastics engaged in developing and manufacturing custom molded plastic product in China by taking advantages of our relatively low labor costs. We have most experienced workers in China, If you're looking for product design, engineering, prototyping, and mass production, Glory plastics can always find a solution for you. For more about our products and services please visit: http://www.plastics-molding.com/.