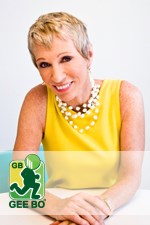 As an entrepreneur and consumer, I save both time and money with my GeeBo mobile app. I can't stand waiting in line and now shopping securely with just my phone makes me wonder why someone didn't think of it sooner.
Jupiter, Florida (PRWEB) October 25, 2013
GeeBo® mobile application for consumers and business owners, allows cashless, secure shopping straight from their phone. GeeBo® is the only app you will ever need.
Barbara's entry to the business world follows the true American dream. During her high school and college days she was a straight D student. At the age of 23, she took out a $1000 loan and started The Corcoran Group, one of the most successful real estate businesses in the country. Since then, Barbara's vision and leadership has allowed her to invest in more than two dozen businesses. Her competitive spirit and shepherding abilities have led these businesses to excel well beyond what was expected. She plans for GeeBo® to be no different than the others and is excited to be a part of the GeeBo® team.
Many consumers have little time to shop for the best deals or wait in line. GeeBo® provides them with the ability to shop from their phone, order food, see local business deals, coupons and even purchase tickets, allowing individuals to save time and money.
To learn about, GeeBo®, visit http://www.mygeebo.com.