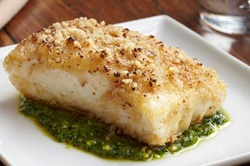 (PRWEB) October 23, 2013
GetMaineLobster.com is offering a limited time fresh-caught Halibut delivery special with delivery on this Friday, Saturday and Tuesday only. There is a limited quantity of this popular fish, caught fresh and cut at Get Maine Lobster's own market before being delivered straight to the doorstep. For only $89.00 plus shipping, GetMaineLobster.com will deliver a four-pound Halibut fillet straight from the boat.
The four-pound Halibut fillet will arrive skin-on, without the bones, and is perfect for grilling, frying or baking. Impress dinner guests with Get Maine Lobster's own baked halibut recipe, which incorporates a creamy parmesan and sour cream spread that enhances the flavor of the fish while keeping it moist. For those fish lovers throughout the continental United States, a fresher catch of this popular fish would be hard to find! A limited quantity of this fresh catch is available, so order now for delivery on this Friday, Saturday and Tuesday.
To learn more about GetMaineLobster.com, browse its wide range of seafood offerings, and to access lobster recipes or view current specials, visit GetMaineLobster.com or call (866) 562-4817. Stay updated and Like the Get Maine Lobster page on Facebook.
About GetMaineLobster.com
GetMaineLobster.com, a division of Black Point Seafood and Black Point Gourmet, hand-selects the finest Maine lobster, seafood and beef products for convenient distribution throughout the United States. Their passion is to make fresh, quality seafood readily available to customers across the country, which is why they buy from only the most trusted, well-established suppliers to ensure that they receive the finest products available.
GetMaineLobster.com was selected out of the more than four million small American businesses served by Chase bank to represent its new Platinum Business Checking product for its 2013 national advertising campaign.