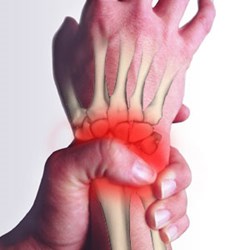 Carpal tunnel syndrome is a painful and debilitating condition that Mr Wood need not have developed had his health and his use of vibrating tools been properly monitored and controlled.
Bolton, UK (PRWEB UK) 28 October 2013
Brighton Magistrates Court (case reference T20127529) heard that Mr Wood's work involved extensive use of vibrating power tools, such as breakers, to break floors and foundations. It is believed, that such exposure has been the main cause of the permanent nerve damage. (1)
Andrew Wood, aged 35, developed bilateral carpal tunnel syndrome after being exposed to vibrations, while employed by a construction firm in East Sussex. (1)
According to the HSE Press release, it is alleged, that the firm also allowed work at height, and failed to properly support the sides of a deep excavation. The proof of such negligence was revelead in photographs taken by Mr Wood, which were accepted as evidence of further safety breaches. (1)
After the hearing HSE Inspector Amanda Huff said:
"Carpal tunnel syndrome is a painful and debilitating condition that Mr Wood need not have developed had his health and his use of vibrating tools been properly monitored and controlled.
"The onus is on employers like C J Gowing to fully consider the risks arising from prolonged use of equipment like hand held breakers, and to ensure their workforce is adequately protected.
"That didn't happen here and Mr Wood now faces a lifetime of discomfort." (1)
As reported by the HSE, Mr Wood was diagnosed with Carpal Tunnel Syndrome last year, after the sensation of pins and needles in his hands turned into severe pain.
C J Gowing and Son Ltd, pleaded guilty to four separate breaches of the Control of Vibration at Work Regulations 2005, and single breaches of the Work at Height Regulations 2005, and the Construction (Design and Management) Regulations 2007. The company was fined a total of £45,000, and ordered to pay a further £4,670 in costs.
Commenting on the news, Thomas Fairclough, Executive at Asons Solicitors, made the following statement:
"Carpal Tunnel Syndrome is one of the most common industrial diseases in the UK. It causes pain, numbness and a tingling sensation. When severe, it can be an extremely frustrating, and a painful condition to live with. Hand Arm Vibration Syndrome, and Carpal Tunnel Syndrome, are linked to vibration exposure, and both conditions are preventable. However, once the damage is done, it stays permanent with no cure.
"Here at Asons, we strongly believe that no one should suffer because an employer has been negligent. Those who have experienced similar working conditions, or suffer from CTS after being exposed to vibrating machinery, should not hesitate to make a carpal tunnel claim."
Asons Solicitors have a wealth of experience in dealing with carpal tunnel compensation cases, and have been exposed to a variety of working practices that endanger the health and safety of employees on a regular basis. As such, they advise victims of Carpal Tunnel to recommend improvements to their employers, to make their position less uncomfortable.
Asons provides advice and guidance to victims of Carpal Tunnel Syndrome, so if you have been affected by Carpal Tunnel at work, they advise that you come forward. They can be contacted on 01204 521 133 or you can visit their website for more information at http://www.asons.co.uk
(1) HSE - Firm fined for vibrating tool failings, 18/10/2013 press.hse.gov.uk/2013/firm-fined-for-vibrating-tool-failings/

About Asons Solicitors:
Asons Solicitors is a Bolton-based law practice that specialises in personal injury and industrial disease claims. Founded by brothers Imran Akram and Kamran Akram, Asons Solicitors has developed to become a young and dynamic law firm that delivers practical solutions to clients in times of difficulty. Their continued focus on their staff has seen them awarded with the Investors in People "Gold Award"; which is reflected in the professional and personable approach they take in working with clients. They strive to grow and to develop, and their supportiveness and attention to detail ensures that their clients use them time and again.
For further information contact:
Email: info@asons.co.uk
Website: http://www.asons.co.uk