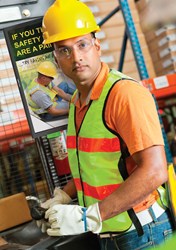 Digital screens to create a measurable and real-time employee engagement platform being launched at the CIPD annual event
(PRWEB UK) 24 October 2013
Amscreen, Europe's leading digital screen provider, has called on the HR industry to embrace new and emerging technologies in its employee communications in order to meet the challenges of the modern workforce. The call comes as Amscreen Digital Solutions, who helps advise businesses on how to enhance employee engagement using digital screens, announced it will be exhibiting at the CIPD Annual Exhibition at Manchester Central on November 6-7th to mark the official launch of the new employee engagement offering.
The leading HR event, which is expecting over 4,000 attendees from across the industry, will see Amscreen showcase a range of technologies that demonstrate how they can help businesses share company performance and success stories, communicate more effectively and motivate staff with benefits and rewards. Included on their stand will be the revolutionary OptimEyes screen, which enables users to analyse how many people - broken down by age and gender - are viewing the content. Digital screens can be used effectively for employee communications in staff rooms, offices, reception areas and atriums.
The team from Amscreen, which has over 6,500 digital screens across the UK and works with companies such as Tesco, BP, Shell, Halifax and WH Smith, will be on hand throughout the two-day exhibition to explain to delegates how the flexible nature of the screens offer instant 'plug 'n' play' technology, ensures real-time updates and further embrace any employee communications strategy. The technology also enables companies to communicate with all staff functions, for example those without access to email or an intranet.
In addition to exhibiting at CIPD, Amscreen Digital Solutions has also created the new Digital Signage Solutions video to demonstrate their offering.
Paul Atherton, Amscreen Commercial Director, said, "Amscreen's approach offers a measurable and real time employee engagement platform that saves on paper and people costs and speeds up the whole employee communications strategy.
As more and more businesses deploy smart pads/smart phones and employees are encouraged to "BYO" Bring Your Own, Amscreen Digital Solutions brings "digital" to the masses for a lot less than most people imagine.
Customer service and sales call centers can also use the simple to operate content management system to enable rapid updates on sales figures and promote a more competitive but inclusive communications approach".
To find out more about Amscreen's Solutions division, please visit Amscreen Digital Signage Solutions website
About Amscreen:
Amscreen Solutions division offers clients a simple and cost effective solution to deploying digital screens, allowing incremental revenue, increased sales and reduced costs. With over 6,000 digital screens across the UK, clients that benefit from Amscreen's unique plug and play solutions include BP, Shell, Halifax and WH Smith.
Amscreen clients own and manage their own network of digital screens allowing them to display content to both their customers and employees. Amscreen offer a simple solution to clients allowing them to easily customise and manage their network of screens, generate additional revenue from monetising screen space as well as receiving unique audience analytics.
Measurability and flexibility are at the heart of the Amscreen business helping to deliver digital signage solutions that now more closely reflect a convergence of 'Outdoor/Online'. This array of audience measurements and insights are obtained from location, demographic and footfall data by the hour and by individual sites. These insights are then leveraged to deliver an array of creative solutions through Amscreens unique content delivery systems allowing day-part targeting, site specific (GEO), audience specific, live feeds, reactive advertising as well as automated localised content and much more.
For more information on Amscreen, visit http://www.amscreen.eu